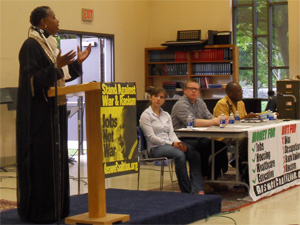 On June 26 in Syracuse, N.Y., more than 100 people joined the ANSWER Coalition for the last stop of the nationwide Eyewitness Libya tour featuring Cynthia McKinney. People traveled from Utica, Albany, and Rochester, N.Y. to attend the event, which was held at the Alibrandi Center of Syracuse University and co-sponsored by the Pan African Community of Central New York.
ANSWER organizer Ashley Sauers emceed the event. She spoke about how the ANSWER Coalition has been at the forefront of the movement to defend Libyan self-determination since even before the war began. As a result, on March 19, as demonstrations were held across the country to mark the eighth anniversary of the invasion of Iraq, the demand "No U.S./NATO intervention in Libya" was raised.
After a few words from PACCNY president Hdayatu Salawu about their organization and the need for African unity, Sauers invited ANSWER organizer Derek Ford to the stage. Derek placed the conflict in Libya in historical and political context. He also spoke about the large social base that supports the Libyan government, citing the dramatically improved rates of literacy and life expectancy since the 1969 coup that overthrew the hated Italian-backed Monarchy.
Akbar Muhammad, a national leader with the Nation of Islam, addressed the audience next. Muhammad talked about the way that the popular opinion of political leaders and events is shaped by the corporate media. He said that the situation in Libya is akin to what took place in Sudan, where imperialist forces used internal strife as a pretext for intervention in the oil-rich country. Muhammad also mentioned that Libya is rich with high-quality water, another natural resource coveted by imperialism.
Cynthia McKinney concluded the evening. She told the multinational crowd in attendance about the horror of the U.S./NATO bombing campaign in Libya. "People and children in Libya have no choice but to continue going about their lives," she said. "You will be driving down the street and a bomb will explode in front of you. Today I am startled by loud noises from my time spent there."
McKinney told the audience that she plans to return to Libya and to continue telling the truth about the devastating effects of western intervention there.
Do you like this post?