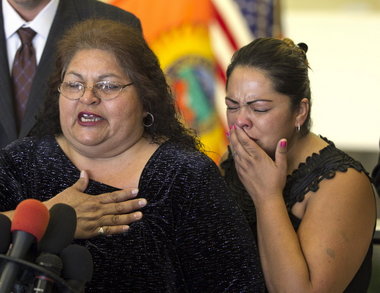 The following is a personal appeal from the mothers of Manuel Diaz and Joel Acevedo, the two men murdered on July 21 and 22 by Anaheim police which sparked the historic community mobilizations against the scourge of police brutality. They are joining with other family members who's loved ones are victims of police brutality, the ANSWER Coalition and other community groups for a Southern California Unity March Against Police Brutality on the 1 year anniversary of the events. We urge everyone to read their letter below, and learn more about march by clicking here.
To the people of Southern California:

Our names are Genevieve Huizar and Donna Michelle Castro and we are writing to you and all organizations concerned with fighting police brutality and racism. Our sons were murdered on July 21 and July 22 of last year in the city of Anaheim, sparking weeks of rebellion and resistance to the epidemic of police violence that is affecting communities throughout Southern California and beyond.

These mass protests were made possible through the broad unity of local communities and activist organizations. We call on all of you, from Bakersfield to San Diego, to converge in Anaheim again, on the one year anniversary of those dramatic events. We will march united, in the name of our fallen sons, Manuel Diaz and Joel Acevedo, to demand an end to police brutality throughout the region.

Our demands for the July 21 march, which are our points of unity, have come from our experiences for the past year as steadfast activists in the police brutality movement throughout Southern California, fighting alongside countless grieving mothers.
We demand:
We know that the people hold the power to stop police violence and that this change can only come from our collective, direct action. We will gather at Little People's Park in remembrance of the 1978 uprising against racist Anaheim police violence [note: the location of the demonstration has since been changed to Anaheim City Hall]. We will march on Disneyland, a world icon of Southern California, and expose the real life experience of working people that are pushed outside the bounds of Southern California tourism and affluence.
Join us in the streets on July 21st! Please endorse and/or RSVP by clicking here.
In solidarity,

Genevieve Huizar         Donna Michelle Castro

Unity March inititated by:
Family of Manuel Diaz (murdered by police in Anaheim on July 21, 2012);
Family of Joel Acevedo (murdered by police in Anaheim on July 22, 2012);
Family of Martin Angel Hernandez (murdered by police in Anaheim on Mar. 6, 2012);
Family of Jose de la Trinidad (murdered by police in Willowbrook on Nov. 10, 2012);  
Family & friends of Mike Nida (murdered by Downey police on Oct. 22, 2011);
Elizabeth Bustamante and John Cabrera (shot by Long Beach police on May 14, 2011);
Family of Andres Avila (murdered by Pomona police on Oct. 16, 2011);
Family of Caesar Ray Cruz (murdered by police in Fullerton on Dec. 11, 2009);
ANSWER Los Angeles; United Survivors of Anaheim; Nida's Rydas; Jeremy Marks Defense Committee; Long Beach Campaign to Stop Police Violence, Women Organized to Resist and Defend (WORD); KmB Pro-People Youth; March Forward!; Party for Socialism and Liberation; Worker Student Alliance (UC Irvine); and more (Click here to endorse)

Get involved!
Do you like this post?