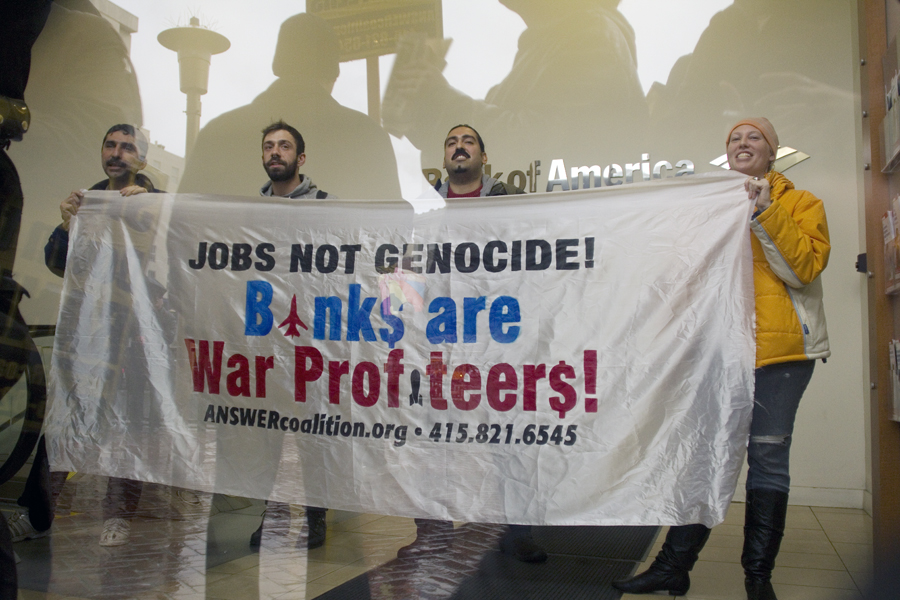 Activists hold a banner inside Bank of America at
Market St. and Powell St., San Francisco, Calif., Jan. 20, 2012
Photo: Krissana Limlamai

As part of the Day of Action initiated by Occupy Wall Street West, the ANSWER Coalition contingent occupied the Bank of America at Powell and Market Streets in San Francisco.
Five activists went into the bank, held up a banner and handed out leaflets to customers and bank workers. Bank of America was forced to yield to the protesters and shut down its business. A picket line and rally were organized outside of the bank as well.
Bank of America has shamelessly continued to evict and foreclose poor and working people, while having received billions of taxpayer dollars in bailout money.
"We charge Bank of America with war profiteering in Iraq and Afghanistan, foreclosing 45,000 homes every month, defrauding millions of customers, laundering money of drug cartels," ANSWER organizer Stewart Stout announced inside the bank as other activists distributed leaflets. "We find Bank of America guilty," Stout concluded at the end of the list of charges against the financial giant.
The morning action was only one successful action in a series of events taking place today to expose the criminal role of the banks in the economic system and the control they exercise over the political system.
This evening at 5pm there will be an action organized by labor and community organizations. It will march from Justin Herman Plaza down Market and through the Financial District.
The ANSWER Coalition, along with Occupy Wall Street West, Occupy SF and many other groups will continue to take the struggle to the streets by occupying banks, foreclosed properties and more to bring about real change to society.
Do you like this post?