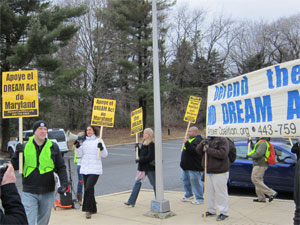 On Feb. 11, 25 people braved a sudden snow squall to speak out in defense of the Maryland DREAM Act outside a meeting of local Republicans hosted by Del. Pat McDonough.
The Maryland DREAM Act is a piece of progressive legislation passed in Maryland in April 2011. It stipulates that undocumented immigrant students can pay public college and university tuition at in-state rates if they meet certain criteria. But Del. McDonough and other racist forces in Maryland immediately launched a petition drive that resulted in the DREAM Act being put on the Nov. 2012 ballot as a referendum. Unless the referendum is defeated, the DREAM Act will never be enacted.
ANSWER's campaign to defend the DREAM Act is a grassroots effort to confront the bigoted forces against the Act while mobilizing voters against the racist referendum.
While McDonough and his audience met inside the Robert Frost Middle School in Rockville, Md., ANSWER activists and volunteers rallied outside in the parking lot. They held a picket line, carrying placards calling for the defense of the DREAM Act and against anti-immigrant racism, and chanted in English and Spanish, "The DREAM Act is under attack. What do we do? Stand up, fight back!" and "Escucha, escucha, estamos en la lucha!"
Winds from the sudden snowstorm broke the poles holding the rally's "Defend the MD DREAM Act" banner, but they did not break participants' spirits. Instead, chants only got louder, especially as passing cars slowed to see the action.
Andrew Castro, who coordinated the rally, said, "Pat McDonough and the other racist politicians think they'll have an easy time spreading their hatred for immigrants, but we will confront them by telling the truth about the Maryland DREAM Act. That's what today's rally was all about. The demonstrators were very spirited and we consider the action a success."
ANSWER's campaign to defend the DREAM Act will continue up through Election Day, and we call on all progressive people in Maryland, and all people committed to justice for immigrants, to join us in the streets as we spread the word and combat the racist, right-wing forces that seek to keep immigrants oppressed.
Del. McDonough and his allies hope that they can take advantage of the undocumented being unable to vote in their own defense. Their intent is to demonize immigrants and spread racist lies among people who don't understand the DREAM Act and the equal opportunity it represents. This is why ANSWER's campaign to spread awareness and show support is important—even some attendees of the McDonough event seemed interested in the rally, and one woman and man brought the ralliers hot chocolate and expressed that they knew very little on the issue, but were glad to learn.
Contact [email protected] or call 443-759-9968 for information on upcoming events and to get involved!
Do you like this post?