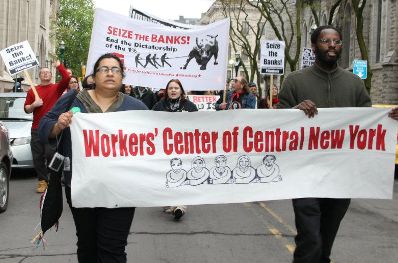 By Maddie Horrell
On behalf of ANSWER Syracuse, we would like to extend our utmost and unconditional solidarity to Aly Wane, who is courageously "coming out" as undocumented.
We live in a country in which 400,000 undocumented immigrants are deported each year to their countries of origin, a number that has drastically increased during Obama's presidency. We stand in solidarity with all immigrants in their fight for recognition as United States citizens.
For Aly, an undocumented immigrant originally from Senegal, the struggle is personal: for the past 13 years he has been denied U.S. citizenship and the "privileges" that come with it, living essentially without legal recognition.
Aly came to the US on a student visa, which expired as soon as he graduated from Lemoyne College. In his time living in the United States, he has worked as an advocate for other undocumented people throughout the US.
As an activist, Aly has spent his time in Syracuse fighting for the rights of undocumented people, in a city where racist attacks on members of the growing immigrant community by law enforcement agencies have become the norm, especially in the poorest neighborhoods. The Syracuse Police Department, Border Patrol and Immigration and Customs Enforcement work in conjunction to oppress and inflict fear into immigrant communities in Central New York. Often, police use minor offenses like traffic violations as an excuse to seek proof of citizenship and aid in deportations.
Aly has been a fearless voice in the activist community in Syracuse, working with organizations such as the Syracuse Peace Council, the Workers' Center of Central New York and the Detention Task Force. He has fought alongside ANSWER Syracuse and other community groups at the ground level in all struggles affecting the poor and working class.
I also have the privilege to know Aly personally. Aly has inspired me as an activist since 2006, when he started living with my aunt and uncle, Diane and Peter Swords. In my own years of searching for a way to take action against systems of oppression, I looked up to Aly as a warm and courageous presence. He taught me to never stop fighting for the rights of all people, and continues to encourage me in the struggle. I am proud of his courage, and stand with him as he makes his undocumented status public at a press conference on June 25 in Syracuse.
The ANSWER Coalition stands in solidarity with all immigrants whose presence in this country is deemed "illegal" by the ruling class. We will fight alongside Aly and all other undocumented people until full rights are won for all immigrants. We call for an end to racist deportations and the criminalization of undocumented people. No human being is illegal!
Do you like this post?