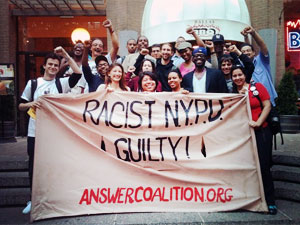 This Father's Day, June 17, more than ten thousand people joined a silent march down 5th Avenue from Harlem to Mayor Bloomberg's house to demand an end to the racist "Stop and Frisk" policy and police brutality.
More than 100 organizations joined the march, including politicians, unions, youth groups, political and community organizations. At Bloomberg's home, a spontaneous rally allowed marchers the opportunity to voice their anger at the injustice felt by so many across the city. This militant group was quickly surrounded by police and 10 people we arrested.
Earlier, more than 100 people had assembled before the State building in Harlem to demand justice for Ramarley Graham and to take a stand against police brutality and racial profiling. NYPD officers shot and killed 18-year-old Graham in his bathroom after breaking into his home without a warrant. Graham has no weapon.
The crowd held signs that said, "NYPD protects & serves the rich." ANSWER organizer Sasha Murphy said: "We're out here today because we know we need to do more than keep marching. We need to build a united movement against these racist killer cops. All they do is come into our communities, pat our people with 'stop and frisk' and they automatically criminalize us."
Following the rally, participants marched and chanted all the way down Lenox Avenue and joined the silent march to Bloomberg's house.
Do you like this post?