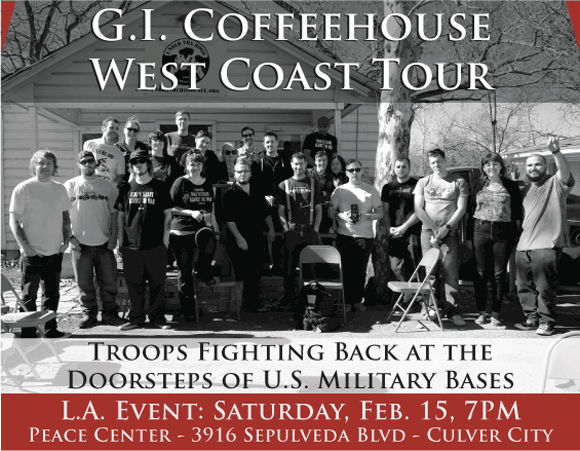 In February and March of 2014, representatives of three "GI coffeehouses" will tour the West Coast of the United States to build awareness and support for their ongoing efforts. They will tell the story of their vital work to support service members, veterans and military families while challenging war and militarism from inside the military community.
In the tradition of the anti-war, soldier-run coffeehouses during the Vietnam War, these three GI outreach centers are strategically located at military bases where nearly 100,000 service members are stationed, and that have played major roles in the occupations of Iraq and Afghanistan.  They are Under The Hood at Fort Hood in Killeen, Texas; Coffee Strong at Joint Base Lewis-McChord near Seattle, Washington; and The Clearing Barrel at the U.S. Army Garrison (USAG) in Kaiserslautern, Germany. 
As President Obama's recent attempt to launch war on Syria shows, militarism has not ended with a new president or the end of the U.S. occupation of Iraq.  The killing of innocent civilians and U.S. troops in Afghanistan continues, as more deployments are scheduled.  The United States is initiating new kinds of wars, with drones and special forces, in Africa and the Middle East. 12 percent of U.S. troops are currently deployed in 150 countries around the world.
It is more important than ever that GI's know their rights within the military.  They must have access to information about all their options. They need counseling on how to avoid being deployed to war and how to seek a discharge from the military, as a Conscientious Objector, or on medical or other grounds. Service members need support from the military and veteran community where they are based. 
Attend this event to learn about the important organizing outside these key U.S. military bases, and learn how you can help this effort.
 Speakers include:
Malachi Muncy - U.S. Army and Iraq war veteran, coordinator at Under The Hood Cafe outside Fort Hood, TX
Meike Capps-Schubert - manager at The Clearing Barrel outside U.S. Army Garrison, Germany
Alex Bacon - Coast Guard veteran, coordinator at Coffee Strong outside Joint Base Lewis-McChord, WA
Gerry Condon - Vietnam war resister, Vice President of Veterans For Peace
 Event sponsored by: Veterans For Peace - LA; March Forward!; Iraq Veterans Against the War; National Lawyers Guild Military Law Task Force; ANSWER LA; War Resisters League; Civilian-Soldier Alliance; Our Lives, Our Rights; Center for Conscience in Action, Center on Conscience and War; and more...
Click here for a full list of West Coast events and for more information about the tour
Do you like this post?