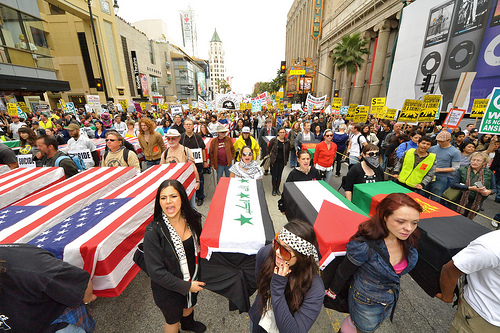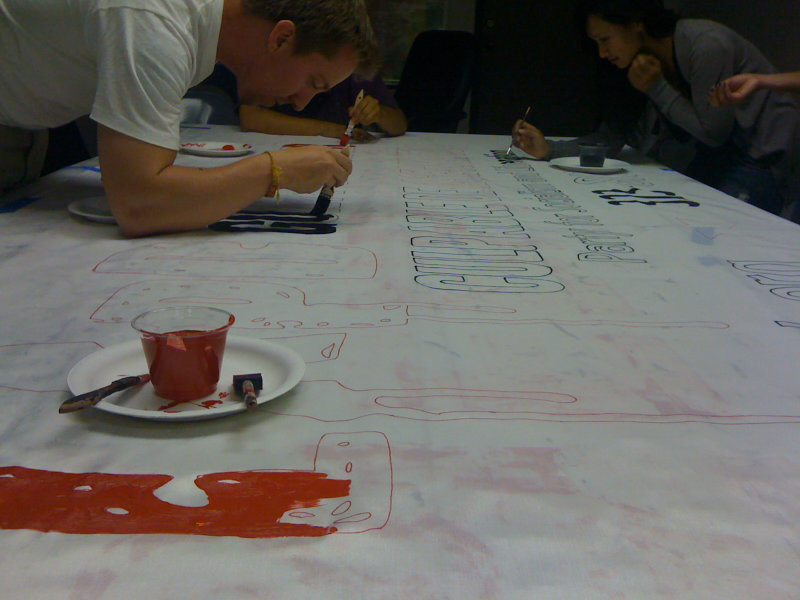 Click here to fill out an internship application.
Looking for something fun and worthwhile to do this summer? Apply for a summer internship with ANSWER Coalition (Act Now to Stop War and End Racism) in Los Angeles.
You will learn valuable organizing skills by working alongside seasoned organizers and students to help to build the movement against war, racism and bigotry. Join the struggle for social justice in our communities and all over the world. Fill out an internship application today.
This summer, ANSWER will be continuing to organize forums, film screenings and other activities on issues like the wars on Afghanistan, Iraq and Libya; the U.S.-backed occupation of Palestine; the struggle for immigrant rights; for LGBT equality; for union rights; and against racism and exploitation. As an intern, you will be an important part of this process.
ANSWER uses a diversity of tactics and strategies to build, sustain, expand and deepen the people's movement that has emerged. In addition to helping build protest marches and events, interns have the opportunity to gain experience through organizing various ANSWER projects, including:
ANSWER meetings, film screenings and forums
Labor, community, veteran and student outreach and organizing
Coalition organizing
Internet organizing
Regional organizing/speaking (public speaking)
Website administration
Research
Office management
Qualifications
Interns must have passion to work with others to build the social justice movement. No formal experience is required. Experience in multicultural and diverse gender environments is helpful. Bilingual skills are helpful, but not necessary. General knowledge of computers and community organizing experience is helpful. Youth, students and applicants of all ages are welcome.
Time requirements
We encourage interns to commit to working with ANSWER 8 to 25 hours a week for a 4 to 6 week minimum. Some of this time will be spent in the ANSWER Office in Los Angeles. ANSWER is a volunteer based organization. This internship is unpaid.
There will be an educational component to the internship. All interns will be able to participate in political classes on various important topics led by experienced ANSWER and community organizers.
About the ANSWER Coalition
ANSWER has been key in organizing the historic anti-war demonstrations since 2001. ANSWER's national steering committee represents groups that have campaigned against U.S. intervention in Latin America, the Caribbean, the Middle East, Asia and Africa, and for social and economic justice for workers and poor people in the U.S. ANSWER is the leading anti-imperialist coalition in the U.S. anti-war movement and a major organization in the immigrant rights movement.
ANSWER counts dozens of international affiliates. From the inception of the coalition, our strategy has been to link with movements in other countries, to create, sustain and expand a united front of local, national and international dissent and opposition to the U.S. government and corporate elite's drive for racist war and occupation and more assaults on civil liberties.
Building community activist leaders
ANSWER's internship program includes a mentoring system and programs to raise awareness among activists of historical and current political developments, fighting racism and bigotry, the struggle for self-determination for oppressed peoples and how these issues affect our society and impact the overall struggle for peace and social justice.
To apply for the internship program, fill out an application online. After we review your application, an ANSWER organizer will contact you to set up an in-person or telephone interview. We look forward to working with you!
Opportunities in our Los Angeles office and also in Long Beach
While our office is located in Los Angeles, we will be focusing a lot of work this summer on the Long Beach Campaign to Stop Police Violence, a project of ANSWER. We have already carried out various successful actions against police brutality in Long Beach and have been covered widely in the press. Interns are needed to work from both LA and Long Beach to help us build this campaign.
Click here to fill out an internship application.
For more info call 213-251-1025 or e-mail [email protected].
Do you like this post?