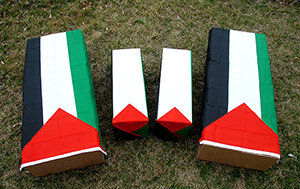 We will be carrying symbolic coffins draped
in Palestinian flags to the White House. 
Saturday, Aug. 2
*TIME CHANGE*: Rally begins at 12:30pm (not 1pm)
Gather at the White House
Washington, D.C.
Transportation is being organized from all over the country (see the transportation center section for downloadable flyers and posters)

Join thousands of people in a National March on the White House on Saturday, August 2 at 12:30pm to condemn the Israeli massacre in Gaza.
We have been in the streets every day in cities around the country. What is needed now is a massive National March on Washington.
Israel receives $4 billion in "aid" from the United States each year. This money is being used to commit war crimes against the Palestinian people in Gaza. We are demanding that all U.S aid to Israel be ended now!
More than 1,500 people in Gaza have been killed and more than 8,000 have been wounded from Israeli bombs and missiles. This has to end!
Join us to demand:
Stop the massacre in Gaza! 

End the blockade of Gaza! 

End all U.S. aid to Israel!
End the colonial occupation!
Co-sponsors:
- ANSWER Coalition
- American Muslims for Palestine (AMP)
- Council on American-Islamic Relations (CAIR)
- American Muslim Alliance (AMA)
- Al-Awda: Palestine Right to Return Coalition
- Al-Awda: Palestine Right to Return Coalition - New York
- CODEPINK
- Muslim Legal Fund of America
-World Can't Wait
- Partnership for Civil Justice
- Palestinian American Council
- MAS Immigrant Justice Center
- UNAC - United National Antiwar Coalition
- Islamic Circle of North America (ICNA)
- House of Latin America (HOLA)
- SI Solidarity Iran
- Labor Fightback Network
- Al-Awda, Palestine Right to Return Coalition, Cleveland Chapter
- Al Quds Committee
- Washington D.C. al-Quds Committee
- Washington DC Chapter of Veterans For Peace
- Methodist Federation for Social Action
- The National Muslim Council for Justice (NMCJ)
- Coalition to Stop $30 Billion to Israel
- Free Palestine Movement International Solidarity Movement - Northern California
- Defenders for Freedom, Justice & Equality - Virginia
- The Phil Berrigan Institute for Nonviolence and Occupy the Dream, Reading, PA
- LA Chapter of the National Lawyers Guild
- The Green Party of New Jersey
- International Action Center
- Jews for Palestinian Right of Return
- Socialist Action
- Labor for Palestine
- New York City Labor Against the War
- Committee for a Democratic Palestine
- National Black United Front
- National Committee to Free the Cuban Five
- Existence is Resistance
- US Academic and Cultural Boycott of Israel (USACBI)
- KmB Pro-People Youth
- Defence for Children International - Palestine
- Muslim Congress
- Casa de Las Américas New York
- United Maryland Muslim Council (UMMC)
- Hopkins Students for Justice in Palestine
- Barry LeNoir, President, United Black Fund, Inc.
- Michigan Voice for Palestinian Rights
#2DC4Gaza #LetGazaLive #FreePalestine #Protest4Palestine 
New Haven, Conn.
Contact: ct@answercoalition.org or 203-903-4480
Details: Buses depart 6:00 a.m. on Aug 2 from downtown New Haven and return the same night. The cost is $40 per person.
Download the poster here
Tampa, Fla.
Contact: sueylmm@hotmail.com
Details: Depart Tampa Friday, August 1 at 6:00 p.m.; Arrive in D.C. Saturday, August 2 at 11:00 a.m. Depart D.C. on Saturday, August 2 at 6:00 p.m.; arrive in Tampa on Sunday, August 3 at 1:00 p.m. Tickets are $100.
Chicago, Ill.
Contact: ANSWER Chicago at 773-463-0311
Details: Buses depart Friday, Aug. 1 at 6 pm from the ANSWER Office at 4802 N. Broadway (You can also meet the buses at 87th and Harlem in Bridgeview, IL at 8 pm). The bus will return to Chicago Sunday morning. Tickets are $100, plus a $5 processing fee.
PURCHASE YOUR TICKET HERE
Bridgeview, Ill.
Contact: Dr. Ghassan Barakat, Humanitarian Relief Foundation - yazzoun@aol.com or 312-671-4787
Or contact Nesreen Ballut, Palestinian American Council-Chicago - nesreen.ballut@gmail.com or 708-802-1129
Bus registration will close Wednesday at 5:00 pm. Buses will leave August 1st at 9:00 pm from 87th and Harlem (Plaza). ATTENDEES ARE REQUIRED TO ARRIVE NO LATER THAN 8:00 PM. We will be back in Chicago on Sunday (early afternoon).
Registration prices: Regular: $100; (Discounted fee for students)
Baltimore, Md.
Contact: baltimore@answercoalition.org or 443-759-9968

Boston, Mass.
Contact: boston@answercoalition.org or 857-334-5084
Download the poster here
The bus is almost full; call or text 857-334-5084 for availability
Cleveland, Ohio
Buses departing Aug. 2 at 4:30am, $70
Contact: Al-Awda Cleveland, Palestine Right to Return Coalition
Ohio4Palestine@gmail.com or 216.772.6788
Toledo, Ohio
Contact: Adam Abuhummos at adam.abuhummos7@gmail.com or 419-612-4377
Details: We will leave Toledo on August 1 at midnight and return on August 3 at 3:00 a.m. Tickets are $70 or $50 for students, call the number listed above to purchase a ticket.
Detroit/Dearborn Heights, Mich.
Contact: Thamer Alkhateeb for ticket sales and more info at 313-456-5289 or via email at Moalkht@gmail.com or via Facebook
Details: We will leave Saturday, August 2 at 1:00 a.m. departing from Detroit on 7 mile and Woodward Near the police station. This will be a 9 hour trip. We will reach DC at 11:00AM Saturday. And depart from DC at 8PM post-demonstration. We will return to Detroit at 5:00 a.m. August 3. The cost for the trip will be $70.00 a person ROUNDTRIP regardless of age. Again, this is a peaceful demonstration. Israel attacks Gaza with bombs and missiles, we will fight back with Love & Peace. Bring anything from blow horns, flags, signs, to banners. Each person will have storage space limited to ONE bag in storage on the bus. Please bring snacks, light meals, and drinks for your self and children. We will not be providing meals believe we may be limited to 1 or 2 stops. Please bring extra change of clothing for children and make sure everyone has comfortable shoes on.  We have a waiver form that must be completed prior to getting on the bus.  Remember to respect eachother on the bus, we are going as a family group and need everyones coordination to make this a safe and smooth trip.
New Paltz, N.Y.
Contact: jacdon@earthlink.net or 845-255-5779

New York City, N.Y.
Contact: nyc@answercoalition.org or 212-694-8720
Download the poster here
Download the one-sided flyer here
Download the double-sided flyer here
NYC BUS TICKETS from UNION SQUARE ARE SOLD OUT
Buses leave at 630am from Union Square (14th and Broadway)  
For those coming from Bay Ridge, Brooklyn, transportation 
is also being organized by Isam Mualla of Beit El-Maqdis — 718-938-8467
Harrisburg, Penn.
Contact: abdeltaghi@yahoo.com or 717-395-6911

Philadelphia, Penn.
Contact: philly@answercoalition.org or 267-281-3859
Details: The bus departs from Philadelphia at 9:00 a.m. from 1755 N. 13th Street (outside the student center at Temple University). We will return to the same location at approximately 9:00 p.m. Tickets cost $30.
Download the poster here
PURCHASE YOUR TICKET HERE

Pittsburgh, Penn.
Contact: pittsburgh@answercoalition.org or 724-972-2674
Details: The bus departs Pittsburgh at 7:30 a.m. from the William Pitt Union (3959 Fifth Ave.). Tickets cost $40.
Download the poster here
PURCHASE YOUR TICKET HERE
Richmond, Va.
Contact: Noorelhoda Ramadan - United We Stand for the Holy Land at Nooraramadan@yahoo.com or 804-397-3020 or Vaid Ismael - Palestinian American Council - Richmond at 804-895-4820
Details: Departing from 900 North Allen Ave., Richmond, Virginia 23220. Leaving at 9:00 a.m. and returning by 9:00 p.m. Tickets are $30
Organize transportation to the National March
Please make an urgently needed donation to help us cover the many expenses associated with a national mass mobilization. We can do this only with your support.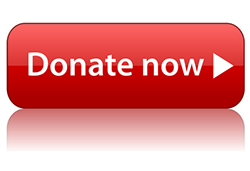 Do you like this post?