National march on Sunday, Aug. 31 in Detroit:
End the Siege of Gaza NOW!
1:30 p.m. in front of the Cobo Center
1 Washington Blvd., Detroit, Michigan
Buses are coming from all over!
Contact (313) 999-4420  or  [email protected]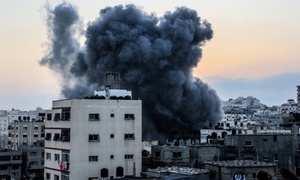 A cloud of smoke rises from the Zafer Tower
highrise apartment complex, which was
completely leveled by two Israeli missiles
Last Saturday, Israel committed yet another atrocity against the Palestinian people. Two Israeli missiles hit a highrise apartment complex in Gaza City, wounding 22 people – half of whom are children. Because of the determination of the Palestinian people, a ceasefire agreement was recently reached, but the siege has only be weakened, not ended
Since July 8, over 2,000 people have been murdered by Israel (80 percent of whom were civilians), including 437 children and 246 women, and over 10,000 people have been injured. Gaza has been under a suffocating siege by Israel since 2007. 
In response to these ongoing war crimes and crimes against humanity, a broad coalition of anti-war, Muslim and Arab-American groups have joined together to organize a national march in Detroit, Mich., where one of the largest gatherings of American Muslims will take place on August 31.
Partial List of Sponsors
ANSWER Coalition, American Muslims for Palestine, National Lawyers Guild, American Muslim Alliance, Muslim American Society, Council on American Islamic Relations (CAIR), Al-Awda: Palestine Right to Return Coalition - USA, Detroit Area Peace with Justice Network, Islamic Center of Detroit, Michigan Coalition for Human Rights, Palestine Cultural Office, Michigan, Michigan Emergency Coalition against Racism and Injustice, Detroit Water Coalition, American Arab Women's Community Network, Dearborn Community Center, One Hamtramck, Code Pink, Witness Against Torture, Immigrant Justice Center, Peace Action, Peace Thru Justice Foundation, American-Arab and Muslim Political Action Committee, Black Workers for Justice, Imam Jamil Al-Amin Humanitarian National Support Committee, Northern Interfaith Alliance, Muslim Mothers for Peace
Volunteer with ANSWER at the Aug. 31 National March in Detroit
TRANSPORTATION TO DETROIT

Plane tickets
Search for flights
Detroit airport

Bus charters
USA Bus Charter: www.usabuscharter.com, 800-979-4498
Bus Bank: www.busbank.com, 866-428-7226


Do you like this post?