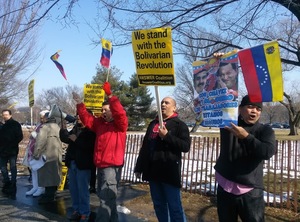 Bills were introduced in the U.S. Congress March 13 to impose sanctions on Venezuela. In the Senate, Robert Menendez (D-N.J.) introduced S.2142 "to impose targeted sanctions on persons responsible for violations of human rights of anti-government protesters in Venezuela, to strengthen civil society in Venezuela, and for other purposes." Rabidly right-wing Cuban-American Rep. Ros-Lehtinen (R-Fla.) introduced H.R.4229 in the House with similar wording.
According to an article by Marc Caputo posted on the Miami Herald's website March 14, "A measure to impose individual sanctions on Venezuelan apparatchiks was introduced last week in the U.S. Senate by Republican Marco Rubio and co-sponsored by Florida's other senator, Democrat Bill Nelson."
Caputo also revealed that Rep. Debbie Wasserman Schultz (D-Fla), Democratic National Committee chairwoman, had told him on March 10 that the Obama administration is considering imposing sanctions on Venezuelan officials "culpable in that nation's repression and who travel to and hold bank accounts in the United States."
These moves are in response to, and in support of, the recent anti-government protests of the Venezuelan right wing. According to the Justice Department, the Venezuelan government is suppressing peaceful protesters and committing human rights abuses. The corporate media have published images falsely attributed to Venezuelan police repression. These claims, backed by an avalanche of media propaganda, contradict the true situation in Venezuela and represent the interests of multinational corporations and Wall Street.
Sanctions also aimed at Cuba
The moves to impose sanctions on Venezuela are also aimed at Cuba. According to William LeoGrande, professor of Latin American politics at American University, "The goal is to break up Venezuela's close alliance with Cuba and end the flow of cheap oil the Venezuelan government provides to Castro's communist regime." (voanews.com, March 14)
From the outset of the protests, the Venezuelan right wing has taken to the streets violently demonstrating and attacking supporters of the democratically elected government and innocent bystanders. The protesters are actually violent gangs and supporters of the right-wing Voluntad Popular (Popular Will) party, whose leader, Leopoldo López, openly calls for President Nicolás Maduro's overthrow. These groups are the true enemy of the Venezuelan working class.
The authors of these bills and the U.S. government support the violent right wing because they oppose the Venezuelan Bolivarian Revolution. They oppose a people's movement that aims to improve the lot of the most oppressed and develop the economy on an independent basis in opposition to U.S. imperialist interests. These bills are one more plot in the long war against the working class and popular movements of Latin America. We must oppose these bills and any attempts to destabilize Venezuela!
Do you like this post?