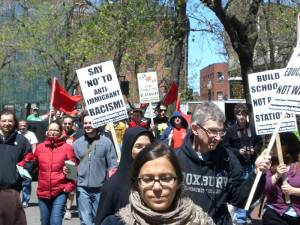 Immigrant rights activists, workers and community members from the Greater Boston area came together on International Workers' Day as part of the celebrations that took place across the country and around the world.
An initial rally was held at the Rose Kennedy Greenway near Haymarket Station in downtown Boston, hosted by the Boston May Day Committee, of which the ANSWER Coalition is a member group. The rally featured speeches, chants and a theatrical performance by the Bread and Puppets theater group. Speakers included Tito Meza of Proyecto Hondureño, City Councilor Charles Yancey, Sergio Reyes of the Boston May Day Committee and Jennifer Zaldana of the ANSWER Coalition. Dorotea Manuela and Bryan Koulouris emceed the rally.
Zaldana said, "We stand here today to fight against the attacks on the poor and working class, and to fight against racist programs such as this so-called Secure Communities, which in reality it is not securing any communities, instead it is tearing down communities."
Immediately following the rally, demonstrators took the train to East Boston to join up with a feeder march and rally that led to the main May Day rally at Chelsea's City Hall. On the train, demonstrators continued the momentum with chants and noise makers.
The main rally was organized by the May 1st Coalition of East Boston, Everett and Chelsea. Under the theme "From Cairo to Wisconsin to Massachusetts: Defend all workers' rights," dozens of organizations mobilized for the action. Immigrant rights groups such as the Chelsea Collaborative, Student Immigrant Movement and Centro Presente marched side by side with several major unions, including as SEIU and UNITE HERE. In addition to the feeder rally and march from East Boston, a second feeder march from Everett joined the Chelsea rally.
Meet the activists at the May 14 conference in Boston!

Immigrant rights activists Dorotea Manuela and Jennifer Zaldana will be among the speakers at the May 14 New England Conference on Socialism in Boston. The conference will feature panels, workshops and discussion on immigrant rights, the labor movement, the fight against racism, sexism and anti-LGBT bigotry, and the struggle against capitalist exploitation. Find out more and register today!


Dorotea Manuela,
May 1, 2011

Jennifer Zaldana,
May 1, 2011


The May 14 New England Conference on Socialism will be hosted by the Party for Socialism and Liberation, a member organization of the ANSWER Coalition.
Support the struggle for immigrant rights and against the racist Secure Communities program by making a donation today.

SPREAD THE WORD


Do you like this post?