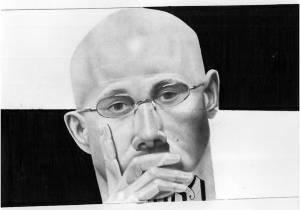 Self-portrait of SHU prisoner and hunger striker Billy Sell, who died July 22.
Jeffrey Beard, secretary of the California Department of Corrections and Rehabilitation, agreed to meet with mediators working on behalf of inmates who have been on hunger strike since July 8. The meeting was arranged after persistent demonstrations and the presentation of a petition with over 41,000 names.
Inmates initiated the statewide hunger strike, which included as many as 30,000 prisoners, to demand an end to inhumane conditions within the California prison system, especially the practice of long-term solitary confinement in Secure Housing Units.
The mediators announced: "We gave [Secretary Beard] ideas that would help bring the prisoners' hunger strike to a just end in short order. ... Our revisions are intended to create more humane conditions and circumstances. We urged him to follow the lead from other states, such as Illinois, Colorado and Mississippi, to end harsh and long term isolation practices."
However, according to the Los Angeles Times, state and prison officials continue to refuse to enter negotiations, stating that the meetings are of little importance.
The meeting came on the heels of the death on July 22 of hunger-striking prisoner, Billy Sell, age 32. Sell, an inmate kept in California's Corcoran State Prison SHU for the past five years, was found hanged in a cell. Sell had requested medical attention for several days prior to his death, but allegedly never received adequate care.
While prison officials claim Sell's death was a suicide unrelated to the hunger strike, advocates for the prisoners say his death was caused by the regulatory neglect and abuse that characterize California's prisons. Sell's death was a result of confinement in psychologically devastating isolation and the denial of medical care. Justice demands an impartial probe into the death of Billy Sell.
Background
On July 8, California prisoners began the third hunger strike in three years protesting the cruel and inhumane practices of the CDCR. Transcending racial divisions, the victims of mass incarceration are engaging in a multinational struggle against the abusive capitalist prison-industrial complex.
Currently, some 3,000 inmates are held within Secure Housing Units. While in the SHU, prisoners are held in solitary confinement indefinitely. For more than 22 hours per day, prisoners are locked in a cell with no windows, dull light, and harshly limited contact from the outside world. The United Nations has declared that placing a prisoner in solitary confinement becomes "cruel and unusual punishment" on the 15th day of isolation. Some prisoners in the United States have been held in SHUs for over 30 years.
Prisoners have stated they will continue their hunger strike until five core demands are met:
Ending long-term confinement;
Ending group punishment and administrative abuse;
Abolishing the "debriefing policy" (forcing prisoners to provide information on other "gang members" in exchange for reentry into the general population) and modification of gang status criteria;
Providing adequate and nutritious food; and
Creation and expansion of constructive programming (that is, regular phone calls and visits, exercise equipment in the SHU yards, and allowing wall calendars).
This hunger strike is the third since 2011. As the capitalist media began picking up the story during the first hunger strike, the CDCR quickly made promises to prisoners and the strike ended. Two years later, the promised changes have yet to go into effect.
Supporters of the striking prisoners are urged to call California Governor Jerry Brown and encourage him to pressure the CDCR into negotiations. He can be reached by phone at (916) 445-2841, (510) 289-0336, or (510) 628-0202; his fax number is (916) 558-3160.
Do you like this post?