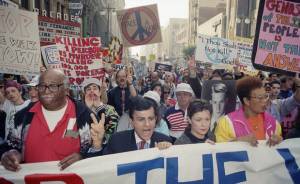 While accolades pour in from around the world on the sad death of Casey Kasem, one of radio's greats, perhaps the most important part of Kasem's life is being omitted from the obituaries of the big media giants. Missing is his lifetime commitment to fighting racism, U.S. wars and occupation, and for social justice at home for those who are the most denied and oppressed in U.S. society.
Throughout his illustrious career on radio's "American Top Forty," Kasem never walked away from his passion for justice, especially concerning racism in Hollywood against Arab actors and other Arabs in the entertainment industry. He was also an outspoken opponent and activist against U.S. wars of conquest in the Middle East.
During the run-up to U.S. wars in Iraq, Kassm often spoke at press conferences and rallies against the U.S. genocidal wars against Iraq, including many actions called by the ANSWER Coalition.
Born Kemal Amen Kasem, in Detroit, Michigan, his parents were Lebanese Druze immigrants. Through his long career, Kasem was an ardent and activist oriented supporter of Arab American rights. In 1996, Kasem was named "Man of the Year" by the American Druze Society.
He fought hard against the anti-Arab racist stereotypes which are depicted endlessly in Hollywood films. He challenged his colleagues in the Hollywood entertainment industry to stand up against anti-Arab racism.
Arab American Institute President James Zogby once referred to Casey Kasem as "The brightest star in our Arab American constellation."
Kasem fought hard against U.S. presence in the Middle East and spoke out for justice for the people of Palestine, appearing often on CNN and the MacNeil/Lehrer Report denouncing U.S. occupation in the Middle East and the rising tide of anti-Arab racism and hostility in the United States.
His passion for justice also broadened out to many local struggles on behalf of workers and especially homeless people. In 1987, Kasem, along with actress Carol Kane, slept on the streets of Los Angeles to draw attention to the plight of the homeless.
In 1988 he was arrested at an anti-nuclear protest with actors Teri Garr, Robert Blake, and anti-war activist Daniel Ellsberg.
While enjoying a brilliant career in radio, movies and TV, where he was loved and admired by millions, Kasem never gave up his devotion to the cause of justice everywhere.
Do you like this post?