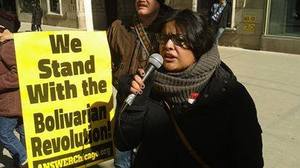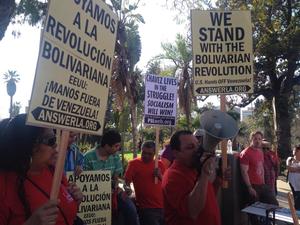 Since U.S.-backed, right-wing gangs began a violent destabilization campaign in Venezuela, people across the United States have been taking to the streets to stand with Venezuela's Bolivarian Revolution. Below are reports from just two of the many actions that have taken place.

Chicago
On Feb. 22, supporters of the Bolivarian Revolution of Venezuela and its democratically elected president Nicolas Maduro took to the streets to protest a right-wing demonstration taking place in front of the Plaza of the Americas in downtown Chicago.
Chanting "Maduro, amigo, el pueblo está contigo" and "Chávez vive, la lucha sigue," supporters put up a spirited opposition to the right-wing demonstration. Some homemade signs read "Thank You Venezuelan Government and CITGO for Energy Aid to the poor of the U.S." and "No US intervention in Venezuela."
The right-wing protesters showed their true colors by displaying a large American flag next to the Venezuelan flag, signifying their ties to the U.S. government that has no interest in the plight of Venezuela's poor and historically oppressed.
The people of Chicago will continue to stand in solidarity with those defending the Bolivarian Revolution in Venezuela and Latin America as long as it is under attack. The continued deepening of the many progressive gains of the revolution is of central importance to people struggling for justice everywhere.
Supporters of this demonstration included: The Venezuela Solidarity Committee - Chicago, ANSWER Chicago, Veterans for Peace-Chicago, Midwest Workers Association, Chicago Anti-War Committee, March 19 Anti-War Coalition, La Voz de los de Abajo, All-African People's Revolutionary Party and US Palestinian Community Network.
Los Angeles
On Sunday, Feb. 23, over 100 people rallied in Los Angeles in support of the Bolivarian Revolution and against the right-wing efforts to overthrow the government.
Initiated and organized in just two days by the ANSWER Coalition, LA Simon Bolivar Association, FMLN – LA and FSLN – LA, the rally was held in MacArthur Park, a bustling heart of the Central and South American immigrant community.
With banners and signs reading "We stand with the Bolivarian Revolution" and "U.S. hands OFF Venezuela," chanting "la, la, Maduro no se va!," demonstrators packed the corner of the busy intersection, as a range of Spanish-language media covered the event.
At the energetic action, organizers announced that the show of solidarity would continue and called an action Thursday at the CNN building to highlight the U.S. media manipulation.
Do you like this post?