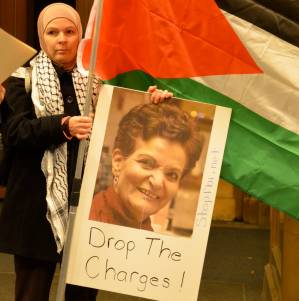 On Oct. 24, more than  50 people picketed in front of the Hilton Hotel on Chicago's Michigan Avenue protesting a benefit for the Israeli military and demanding an end to the persecution of long-time Palestinian organizer Rasmea Yousef Odeh. Odeh is a 66-year-old well-known feminist and Arab community activist who was abducted from her Chicago home by Department of Homeland Security agents on the morning of Oct. 22 on alleged immigration fraud. The indictment of Odeh alleges that she failed to disclose a conviction in an Israeli court. The Palestinian rights activist spent 10 years in jail for the alleged "crimes" of membership in the Popular Front for the Liberation of Palestine and participating in the group's military activities.


Unjustly jailed in an Israeli prison system that enforces apartheid rule in her homeland, Odeh was a political prisoner and torture victim. Contrary to the dominant mainstream narrative, the source of criminality in Palestine is not Palestinian activists, but the entire racist Israeli regime that is systematically robbing the Palestinian people of their land.
The arrest of Odeh is part of an ongoing offensive against Palestinians and Palestinian solidarity activists in the United States. In the past couple of years, solidarity activists have had their homes raided by the government. They have been threatened with the strong-arm tactic of a grand jury investigation. Palestinians, Arabs and Muslims have faced an escalation of attacks on campuses and in society.
The United States funds and props up the occupation of Palestine in order to further its aims of domination in the Middle East. The recent surge of support for the cause of Palestinian freedom amongst young people in Europe and in the United States has been a cause for great concern in the halls of power. The attacks against activists are meant to scare people away from support for Palestinian justice.

 The scare tactics must be defeated. Defense of Palestine is not a crime. In order to continue making advances in solidarity with Palestine and the Middle East, the U.S. anti-war movement must stand united in support of targeted activists.
Drop all charges against Rasmea Yousef Odeh now!
Do you like this post?