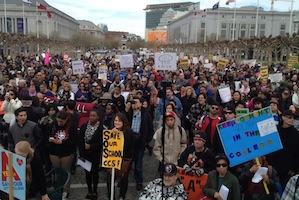 Reprinted from Liberation News
On April 16, dozens of members from the Save City College of San Francisco Coalition presented a resolution to the San Francisco Board of Supervisors. If passed, the resolution would put the board on record as supporting the implementation of Proposition A, a voter initiative to support CCSF that passed in November with more than 70 percent of the vote. 
After holding a press conference on the steps of City Hall, members of the coalition spread out to lobby individual supervisors, with four of the 11 supervisors declaring their support at the end of the day. With only six days to gain the support of at least two more supervisors, the coalition has scheduled an ongoing effort to continue the lobbying through petitions and phone calls. 
The effort to pass the resolution is part of a larger strategy to consolidate the growing unity among faculty, staff, students and community groups and push forward to finally defeat the "show cause" demands of the Accrediting Commission for Community and Junior Colleges to reconstruct CCSF and strip it of its progressive leadership and role supporting workers, seniors, immigrants and LBGT members of the San Francisco community. On April 25, the coalition plans to confront the City College Board of Trustees and defeat their proposal to cut programs, faculty and staff.
Part of a wider struggle
After more than nine months of organizing, and studying the politics behind the ACCJC, the leadership of the coalition has emerged with a sophisticated understanding of how the struggle to save City College is part of a wider struggle to protect access to quality public education for all from the capitalist politics of austerity and privatization. 
As part of its program of political education, coalition leaders have reached out to labor and community groups, conducted teach-ins and recruited student and faculty representatives on each of the nine primary City College campuses, gained the active support of the San Francisco Central Labor Council, and joined with leaders from other colleges in the California community college system that are similarly under attack. 
As they emphasize, this struggle is the beginning, not the end, of an effort to launch a movement that will reclaim not only community college programs but also confront a broad range of attacks by the 1 percent capitalist class against poor and working-class communities, the dignity and rights of women and immigrants, and the right to affordable health care. They also recognize the need to oppose imperialist wars against independent-minded developing countries.
Do you like this post?