The ANSWER Coalition encourages its members and supporters to attend the National Conference taking place Nov. 13-14 in Los Angeles sponsored by the PSL, a member group of the ANSWER Coalition.
Part of the Nov. 13-14 National Conference in Los Angeles
Special International Solidarity and Awards Session
Saturday, Nov. 13 at 6:30pm
Featuring Former U.S. Attorney General Ramsey Clark,
Robert King Wilkerson of the Angola 3 and many more

A special International Solidarity and Awards Session will take place on Saturday, Nov. 13, at 6:30pm as part of the two-day National Conference sponsored by the Party for Socialism and Liberation  at the University of Southern California Davidson Conference Center (located at 3415 S. Figueroa Street in Los Angeles). The conference begins at 9:30am on Saturday, Nov. 13 and at 9:00am on Sunday, Nov. 14.
The Special International Solidarity and Awards Session will feature the first-ever "Fights for Justice, Champions of Freedom" awards, along with speakers and statements from international groups and national liberation movements in the United States. Click here to register for the conference, including the special International Solidarity and Awards Session.
Featured speakers and award recipients in attendance will include:
Ramsey Clark

Ramsey Clark is an internationally-renowned progressive attorney and human rights activist. His remarkable career has included active opposition to U.S. wars and interventions from Vietnam to Central America to Afghanistan. Ramsey has defended numerous political prisoners, among them the San Quentin 6, Leonard Peltier, Father Phil Berrigan and Lori Berenson. He has been a leader in the movements against sanctions and blockades targeting Iraq, Cuba, Yugoslavia, Iran and other countries. In 2003, Ramsey drafted articles of impeachment against George W. Bush, Dick Cheney, Donald Rumsfeld and others for war crimes.
Robert King Wilkerson

Thirty-eight years ago, deep in rural Louisiana, Robert King Wilkerson was one three young Black men silenced for trying to expose continued segregation, systematic corruption and horrific abuse in the biggest prison in the United States, Angola. Eager to put an end to outside scrutiny, prison officials began punishing inmates they saw as troublemakers.
Herman Wallace, Albert Woodfox and Wilkerson—now known as the Angola 3—were charged with murders they did not commit and thrown into solitary cells for decades. Woodfox and Wallace remain in solitary confinement. Wilkerson was released from prison in 2001, and will accept the "Fighters for Justice" award on behalf of the Angola 3.
Mara Verheyden-Hilliard

Mara Verheyden-Hilliard is a civil rights lawyer and co-founder of the Partnership for Civil Justice Fund, a public interest legal organization in Washington, D.C. that handles key constitutional rights litigation, particularly concentrated in the areas of free speech, assembly or other protected political organizing activity.
Verheyden-Hilliard is co-chair of the National Lawyers Guild Mass Defense Committee and serves on the National Executive Committee of the NLG. She is one of the leading voices of the antiwar movement and in defense of targeted Arab and Muslim communities. Verheyden-Hilliard is a recipient of the "Champions of Freedom" award.
Heidi Boghosian

Heidi Boghosian is the executive director of the National Lawyers Guild. She is the co-host of the weekly civil liberties radio show Law and Disorder on Pacifica's WBAI in New York and over 25 national affiliates.
Boghosian received her JD from Temple Law School where she was the editor-in-chief of the Temple Political & Civil Rights Law Review. She has an MS from Boston University and a BA from Brown University.
Mahdi Bray
Imam Mahdi Bray is a long time civil and human rights activist currently serving as the Executive Director of Muslim American Society Freedom based in Washington, D.C.
Imam Bray is also an organizer against the U.S. wars on Afghanistan, Iraq and U.S.-Israeli aggression against the Palestinian people. He is the author of several books and is a frequent speaker in cities across the United States.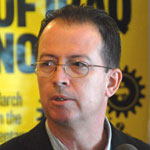 Brian Becker
Brian Becker is the National Coordinator of the ANSWER Coalition and a leading member of the Party for Socialism and Liberation. Becker has been a central organizer of the mass anti-war demonstrations that have taken place in Washington, D.C. over the past decade. He has appeared extensively on national and international media outlets.
PSL members and guest speakers at the National Conference include the following well-known activists and organizers:
Jollene Levid: National Chairperson, AF3IRM
Dr. Henry Clark: Executive Director, West County Toxics Coalition
Izzy Alvaran: Community Outreach Organizer UNITE HERE! Local 2
Gloria La Riva: Coordinator, National Committee to Free the Cuban Five
Jim Lafferty: Executive Director, National Lawyers Guild, Los Angeles
Mike Prysner: Iraq war veteran; Co-founder, March Forward!
Yousef Abudayyeh: National Coordinator, Free Palestine Alliance
Eugene Puryear: Editorial Board, Liberation newspaper
Arturo Garcia: Alliance for Just and Lasting Peace in the Philippines
Muna Coobtee: ANSWER Coalition, Los Angeles
These are just a few of the speakers who will be present. Click here for a full conference schedule.
Make sure you register for the National Conference on Socialism today. Be there and bring your friends, family, co-workers, co-students and everyone you know.
Click here to register for the conference. 
For more information visit www.PSLweb.org/conference.
Do you like this post?