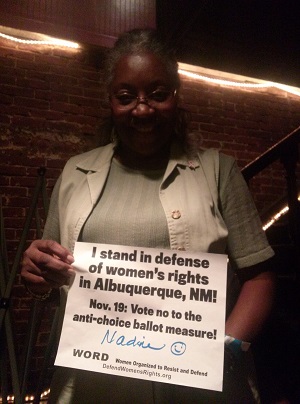 The ANSWER Coalition actively supports the work of Women Organized to Resist and Defend (WORD)

Right-wing groups from outside of New Mexico that are part of a campaign to undo women's rights nationwide have successfully petitioned to place a measure on the ballot for a special election taking place in Albuquerque, New Mexico, on Nov. 19, 2013, that would ban abortions after 20 weeks.
This is a blatant attempt to strip Albuquerque women of the right to control their own bodies and make decisions about their health care. You can show your support by joining the nationwide photo campaign in solidarity with the women of Albuquerque.
This ballot measure is NOT about banning abortions at 20 weeks – it is about taking the first steps in banning ALL abortions, not just in Albuquerque, but nationwide.
This is a battle in a larger war on women being waged by the right wing. With each battle they win, they are taking more territory. We cannot cede them any territory. We cannot accept any infringements on reproductive rights. We cannot allow them to roll back the clock on the rights that women fought for and won.
Anti-choice groups, like the Legal Life Defense Foundation and Operation Rescue, were unable pass laws at the state-level in New Mexico. This ordinance is a new step, a new tactic, to pull the issue down to the local level. They hope to set a precedent of local bans, with the hope that this tactic will spread across the country and lend itself to helping increase the restrictions on abortion at earlier and earlier stages until what was a right is completely banned for all.
We cannot stand by and allow this to happen! One in three women will have an abortion in her lifetime. This is an issue that impacts hundreds of thousands of women across the United States.
Show your support for the struggle against this outrageous anti-woman ballot initiative. Print the flyer from our website, write in your name and city, and send a photo to [email protected].
Click here to see more photos submitted from across the country and join the nationwide campaign in solidarity with the women of Albuquerque.
Want to do more? Click here for more ways to get involved.
Do you like this post?