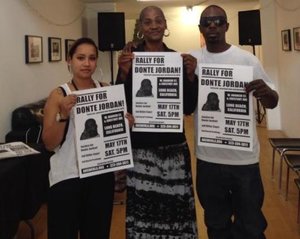 On May 17, Pamela Fields led a powerful demonstration and vigil beginning at the very spot her son, Donte Jordan, was murdered months earlier by the Long Beach Police Department. Community members along with other families of victims of police brutality gathered at Chestnut and Anaheim Streets to demand justice for Donte. Demonstrators chanted "Justice for Donte!" as they marched down Anaheim Street.
On Nov. 10, 2013, Jordan was murdered by the LBPD. He was a 39-year-old father when he was murdered on Anaheim St. in Long Beach around 6:00 p.m. that evening.
Officers responded to a call about an African American male firing shots around a Chevron gas station. When officers arrived they saw and racially profiled Donte, who was simply walking along Anaheim Street and immediately began to shoot from afar without ever even questioning him. Jordan was shot a total of 12 times – 10 times in the back and two more times after he had already fallen to the ground.
The demonstration was followed by a vigil where community members and Pamela spoke out against the police brutality they face on a daily basis by the police in their communities. Pamela thanked everyone for their support and vowed to continue the fight for justice not only for Donte but for all victims of police murder.
In attendance were Genevieve Huizar and Sonia Hernandez, both members of Young Survivors, a support group that unites the children and survivors of those killed by the police. They offered their support for Pamela while sharing their experiences of losing loved ones to police brutality.  
Overall, the march was strong and the energy high. The spirited demonstration ended with a reminder about the importance of continuing the fight for justice for all victims of police brutality.
Do you like this post?