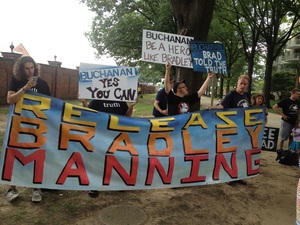 On July 26, members of the ANSWER Coalition joined a protest demanding the freedom of Bradley Manning at Ft. McNair in Washington, D.C. Following the conclusion of closing arguments, demonstrators chose Ft. McNair as it is the home of Maj. Gen. Jeffery Buchannan, convening authority in Manning's court martial.
The action preceded a weekend of demonstrations during which over 40 cities had events demanding the freedom of Bradley Manning. Organized by the Bradley Manning Support Network, the protest began with a rally where those gathered in front of the gates of Ft. McNair heard from a range of speakers including veterans of various wars and activists from the Middle East, in addition to an effort to nominate Bradley Manning for a Nobel Peace Prize.
Ft. McNair is located at the edge of an oppressed majority Black area of Southwest Washington, and protestors snaked through streets surrounding Ft. McNair raising consciousness about the Bradley Manning case, gaining visible support from some along the route.
The march also, at several points, blocked the gates to the fort, as well as lined the sidewalks and streets as cars exited the base. Maj. Gen. Buchannan has the authority to reduce any potential sentence Manning receives, and one large, 20-foot banner called on the general to "Do the Right Thing - Free Bradley Manning."
In addition to the action on the 26th, there was a demonstration in support of Bradley Manning which marched from Dupont Circle to the White House on the night of July 30, following the announcement of the verdict.
Do you like this post?