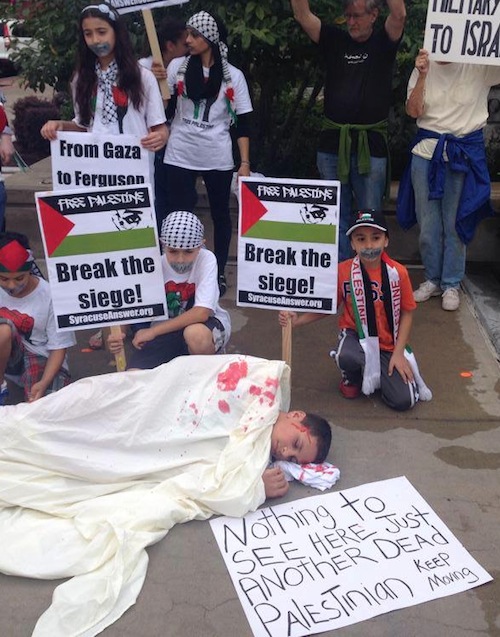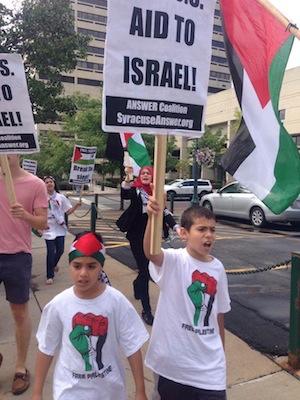 Israel's assault on Gaza has destroyed entire towns, including hospitals, shelters, and schools. Thousands of Palestinians have been killed, and so many more have been injured and displaced. Yet to listen to the mainstream media, one would think that it is Israel that is the victim. In response to Israel's ongoing massacre and the media's biased coverage of it, protesters in Syracuse staged a dramatic "die-in" at the downtown Federal Building.
The idea for the die-in came from several local children. As Andriea Abdel, one of the event's organizers said, "The kids here see it and they become affected, and they wanted to do something." Several of the young people present also had family members killed in Gaza by Israel's assault.
Abdel made the immense suffering in Gaza very clear, stating that "We have family members in Palestine and they basically said that the schools are not going to open this year because there aren't enough kids, they have all been killed." This is something that Israel's racist right-wing, which has been galvinized by the war, has celebrated with the disgusting chant, "Tomorrow there's no school in Gaza, they don't have any children left."
The event attracted a diversity of people fed up with Israel's occupation of Palestine, including Lisa Cohen, who held a sign that read "I refuse to occupy" and "Judaism rejects Zionism." Cohen, who is Jewish, said that she grew up with Zionist propaganda, which she began to reject several years ago. "Since I went to Palestine in 2005," she said, "I came home and did a lot of research on what's really going on over there. It's an occupation, and it's really important for me to let my people know, especially because brain washing is so hardcore in America."
After rallying at the Federal Building for almost an hour the group began marching downtown, again with children chanting and leading the way. They stopped in front of the offices of Syracuse.com, the local online and print newspaper. There, they rallied while passersby honked in support and protesters were interviewed by a reporter.
At one point, a demonstrator turned to another and asked, "How long do you want to stay here rallying?" "Forever," she responded.
After marching back to the Federal Building, protesters resolved to meet back up next week at the same time and place for another protest.
Do you like this post?