Say NO to the anti-immigrant
"Secure Communities" Program!
Saturday, February 12th - 1-3pm
Massachusetts State House — 24 Beacon Street, Boston, MA
Red Line and Green line - Park St. Stop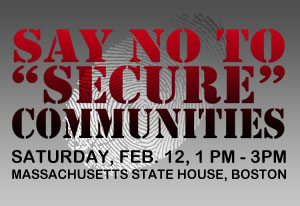 Sign the petition
against the anti-immigrant
Secure Communities Program!
Gov. Deval Patrick wants to join hands with ICE to spread fear in the immigrant communities of Massachusetts.
Under the guise of public safety, "Secure Communities" targets mainly immigrants and people of color, mandating local police to cross check fingerprints of arrestees against the Homeland Security's database in search of immigration status.
Join us on Saturday, Feb. 12 at 1pm at the Massachusetts State House to voice your opposition to this racist program.
Most of those detained and deported have been unlawfully arrested, arrested for minor offenses like traffic violations or ultimately had their charges dropped.
Boston knows first hand about racist police. Boston's African American community is no stranger to police brutality, or the racial profiling that will be extended by "S-Comm." Suffolk County is the only county in the state where police currently participates in "Secure Communities," and 68 percent of those detained and deported in Suffolk County have committed no crime.
"S-Comm" is not about security. "S-Comm" is about racial profiling and terrorizing immigrants. It's part of an overall effort to maintain a permanent second-class status for millions of immigrants workers.
Let's stand together against this racist partnership between ICE and police in Boston and across the state. Join us on Saturday, February 12th, and beyond to demand:
No to "Secure Communities" and all anti-immigrant programs!
No human being is illegal — Full rights for all immigrants!
Stop the raids and deportations now!
To endorse the Feb. 12 demonstration, click here.
For more information, contact:
Initiated by the Boston May Day Committee (Mass. Global Action, July 26 Coalition, Tecschange, Latinos for Social Change, Socialist Alternative, Socialist Party USA, Socialist Workers Party, ANSWER Coalition). Endorsers (as of 2/7/11): ACLU of Massachusetts, Boston-Cambridge Alliance for Democracy, Center for Nonviolent Solutions, Centro Presente, Chelsea Uniting Against the War, Circulo Bolivariano Martin Luther King, Committee in Solidarity with the People of El Salvador (CISPES), Community Church of Boston, Dominican Development Center, FMLN Boston, Harvard No Layoffs Campaign, Immigration Pastoral Center, Industrial Workers of the World, International Action Center, MassCOSH/Centro de Trabajadores, Mass. Jobs with Justice, MataHari: Eye of the Day, MIRA, National Lawyers Guild - Massachusetts Chapter, Party for Socialism and Liberation, Project Voice AFSC, Proyecto Hondureno, Resist the Raids Network, Stop the Wars Coalition, Student Immigrant Movement, Student Labor Action Movement (SLAM), Unite Minority Neighborhoods, Worcester Immigrant Coalition.

Do you like this post?