Friday, Feb. 7 Forum on Black Liberation and Palestine; South Africa's Unfinished Revolution
Saturday, Feb. 8 Celebrate the Life of Nelson Mandela + Cuba's Solidarity with Africa
Sunday, Feb. 9 Film Showing 'Fruitvale' and Discussion on Movement Against Police Brutality
Saturday, Feb. 15 Lyrical Revolt 27: Revolutionary Hip Hop, Dance, Poetry and More
Friday, Feb. 28 Harlem Forum 'Shackled and Chained: Mass Incarceration in Capitalist America'
---
 Black Liberation and Palestinian solidarity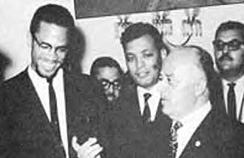 Malcolm X with Palestinian leaders, 1964
Friday, Feb. 7, 7pm
2295 7th Ave.
2/3 or B/C to 135th St 
There is a long history of the Black freedom movement standing with the cause of Palestinian liberation, and vice versa. SNCC, the Black Panthers and Malcolm X all connected the Black struggle with Palestine. This solidarity continues today on many fronts. Join us for a discussion.
RSVP on Facebook. Childcare provided. Sponsored by the Party for Socialism and Liberation.
---
 Celebrate the Life of Nelson Mandela
& Cuban Solidarity with African Liberation

Saturday, Feb. 8, 7:30pm
The Riverside Church
91 Claremont Avenue
This event will present the real Nelson Mandela, a revolutionary fighter against oppression and exploitation, not the fairy-tale figure manufactured among US politicians and the big-business media, aiming to dilute the truth of his history and legacy.
Speakers include

Rodolfo Reyes, Cuba's Ambassador to the UN and Veteran of Angolan War

Representative from South Africa

Gail Walker, Director of IFCO/Pastors for Peace

Michael Warren, Civil Rights Attorney

Message from the Cuban Five and Video of Mandela in Cuba
Get more info by emailing [email protected]
THE FEBRUARY 8, 2014 NELSON MANDELA MEMORIAL COMMITTEE includes: 1199/SEIU Latin America Democracy Committee, Alternativa Revolucionaria, A.N.S.W.E.R, BAYAN, Brecht Forum, Casa de las Americas, Circulos Bolivarianos – NY, Cuba Solidarity New York, El Frente Amplio Dominicano, Frente Socialista de Puerto Rico – NY, Fuerza de la Revolucion, Harlem Tenants Council, Haitian Information Center, IFCO/Pastors for Peace, International Action Center, International Committee for the Freedom of the Cuban Five, Jericho Movement, July 26 Coalition, La Peña, Mesa de la Izquierda Dominicana, National Committee to Free the Five, National Network on Cuba, Partido Nacionalista de Puerto Rico – Junta de Nueva York, Party for Socialism and Liberation, People's Organization for Progress, Philippine Forum, Popular Education Project to Free the Cuban Five, ProLibertad Freedom Campaign, Socialist Action, Socialist Front of Puerto Rico, Sisa Pakari Labor Center, Socialist Workers Party, Venceremos Brigade, Workers World Party, Rev. Luis Barrios, Frente Amelio – RD, Alternativa Revolucionaria, Proyecto Pro Construcion del PSD.
---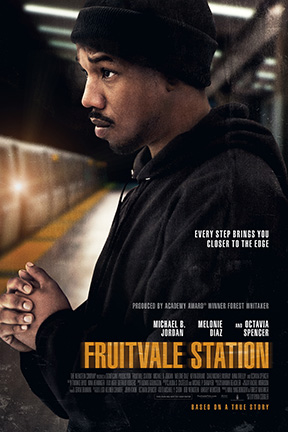 Film Showing and Discussion:
'Fruitvale Station'

Sunday, Feb. 9, 3pm
2295 7th Ave.
2/3 or B/C to 135th St

This important and award-winning film is based on the true story of the police murder of Oscar Grant. It highlights the racism and police brutality that is plaguing oppressed communities nationwide.
Come learn more about what happened in Oakland California five years ago and discuss what we can do to fight back. Join us!
Get more info by emailing [email protected] or calling 212-694-8720
---
 ANSWER presents:
Lyrical Revolt 27!
Saturday, Feb. 15, 7pm
39 Eldridge St. 4th Floor
F Train to East Broadway
Join us for a night of Hip Hop, Dance, Poetry and Community Empowerment.
The ANSWER Coalition (Act Now to Stop War and End Racism) is working to build an anti-racist, anti-war and social justice movement through grassroots activism and community organizing. We are fundraising essentially to keep doing what we do! 
Fresh Food and Drinks will be Available. Multiple Raffle Drawings throughout the night.
$10 Entry Fee / $2 Raffle Tickets 
Make an advanced ticket purchase now and get a free raffle ticket!
Show begins at 8pm sharp! Open to ALL ages! Tell your friends and family! #LyricalRevolt
More information about performers
RSVP on Facebook
---
 Shackled and Chained:
Mass Incarceration in Capitalist America
featuring author Eugene Puryear
Friday, Feb. 28, 7pm
St. Mary's Episcopal Church
521 W. 126th St.
Closest train: 1 to 125th
Event is Free
Our featured speaker, Eugene Puryear, author of the recently published Shackled and Chained, Mass Incarceration in Capitalist America, will speak about the racism, historical foundations, and political objectives behind the U.S. prison system, which incarcerates people at a far higher rate than any country in the world.
Also presenting: a representative of Asociación Ñeta Pro-Inmate Rights and Rukia Lumumba, member of Malcolm X Grassroots Movement, former Youth Director of Center of Community Alternatives, and Youth Director of CASES (Center for Alternative Sentencing and Employment Services).
Contact ANSWER at 212-694-8720 for more information!
Do you like this post?