Help us put the final touch on ANSWER San Francisco's new home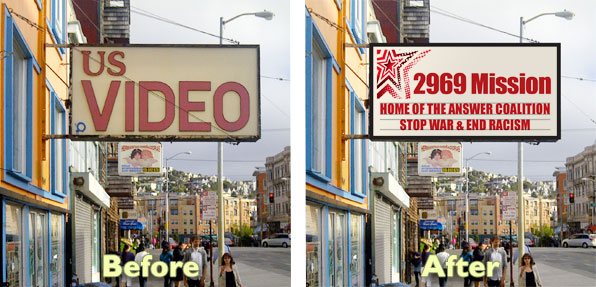 Simulated photo of the new sign for ANSWER San Francisco
Please give generously to help us put this
new sign in place to finalize our new SF office
Dear friends and supporters,
As you may know, the ANSWER Coalition moved into a new and much-expanded office space at the beginning of 2011. Many of you donated to fund the months of almost entirely volunteer labor that turned a very run-down former video store into a great new venue for the people's movement in the Bay Area. Numerous organizations have utilized our facility for a wide range of meetings, forums, poetry readings, concerts, social events and more. Since moving in, we have seen a major increase in the number of both activists and projects.
It took tens of thousands of dollars to carry out the work to remake the building, and we expended every dollar raised and more. But one critical element has remained undone: the large outside sign. Now, we are moving to replace the old sign with a beautiful new one. We believe that this step will significantly improve our community outreach and help attract new activists from among the thousands of people who pass by the office every day. You can see the dramatic improvement this will mean in the before-and-after photos.
We are appealing to our supporters and friends to help us once again. The total cost of the sign, including electrical work, materials and painting will come to a little over $2,500. A very generous donor has offered to match dollar-for-dollar donations up to $1,250.  In other words, your $100 donation would really amount $200; your $25 contribution would really equal $50.
Whatever you can do to help will be most appreciated and help complete the transformation of this new center for the people's movement.
Yours in solidarity,

Richard Becker for the SF/Bay Area Chapter
ANSWER Coalition

Do you like this post?