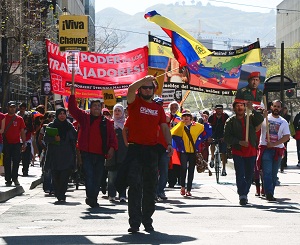 Filling up the busy 24th and Mission BART plaza with red shirts and Venezuelan flags, over 300 activists, revolutionaries and supporters of the Bolivarian Revolution came out to pay homage to Venezuelan President Hugo Chávez on March 10. In a celebratory rally and march, everyone paid respect to Chávez by thanking him for bringing dignity to the poor, the oppressed and the workers in Venezuela and for standing up against the giant U.S. empire that has caused so much misery across the world and amongst its own people.
With chants like ¡Venezuela escucha, San Francisco está en tu lucha! (Venezuela listen, San Francisco is with your struggle) and ¡Chávez no murió, se multiplicó! (Chávez didn't die, he multiplied), organizations from a wide range of backgrounds marched together in the heart of the Latino district, the Mission. The action was called by individual Venezuelan revolutionaries and supported by the ANSWER Coalition, the Party for Socialism and Liberation, BALASC - Bay Area Latin America Solidarity Coalition, FMLN-Bay Area - Frente Faribundo Martí para la Liberación Nacional, Haiti Action Committee, SOA-School of the Americas Watch, the Center for Political Education, and Marin Interfaith Task Force for the Americas.
After chanting and singing through the Mission, the march ended up by the statue of the revolutionary whom Chávez named the Venezuelan Revolutionary process after, Simon Bolívar.  In closing and sobering words, a long list of individuals read poetry, sang songs, and reminded people that the struggle is far from over. People were urged to learn about the Bolivarian Revolution and support its continuation by informing others about the reality in Venezuela. The need to have Nicolás Maduro win the presidency on Sunday, April 14 was also stressed.
A vigil was also held on March 5, the day that Chávez died. More activities are being planned as a follow-up to the march with the hope that people make the connection between what Chávez did for Venezuela and how that same kind of change is needed for us here in the belly of the beast.
Do you like this post?