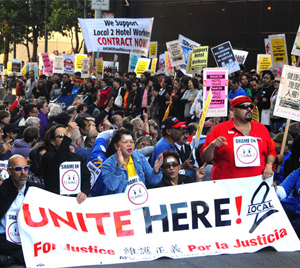 On July 22, more than 1,500 hotel workers and their supporters marched from the Four Seasons in downtown San Francisco to the Grand Hyatt in protest against the hotel management for refusing to negotiate a decent contract.
Today's march was part of a day of action that saw similar protests organized by the UNITE HERE national union in 15 cities in the United States and Canada. In addition to San Francisco, actions took place in Chicago, Honolulu, Long Beach, Los Angeles, Boston, Rosemont, Vancouver, Toronto, Miami, Pittsburgh, Indianapolis, San Antonio, Santa Clara and San Diego. Several hundred hotel workers and supporters were arrested in civil disobedience actions.
The demonstration in San Francisco began at the Four Seasons and marched to the Hotel Frank, and then to a rally at the Grand Hyatt, where 152 union members and supporters, including five ANSWER Coalition (Act Now to Stop War and End Racism) activists, engaged in a civil disobedience action and were arrested.
Fighting against take-backs
Maintaining current health care benefits is a major demand of UNITE HERE Local 2, which represents more than 9,000 hotel workers in this city. The transnational hotel chains are demanding that the workers, whose health care is covered under the present contract, pay hundreds of dollars a month for benefits.
"'As a single mom, I am outraged by Hyatt's proposals that continue to demand unaffordable concessions from us, especially as they continue to expand and grow,' said Caddie Lin, a housekeeper and member of Local 2 at the Grand Hyatt for 14 years. 'When will they start investing in the people that make them their millions?'" (unitehere.org)
The militant march and picket featured people of many nationalities. Several unions, including ILWU Local 75, Painters and Tapers Local 913, School Bus Drivers Local 1741, Teamsters Local 856, SEIU 1021 and the National Union of Healthcare Workers mobilized.
Many community and political groups participated, including the ANSWER Coalition, POWER, Women's Collective Day Labor, Chinese Progressive Association, Progressive Jewish Alliance and the Party for Socialism and Liberation. The protesters chanted: "If we don't get a contract, you don't get no peace!" and "Union Arriba! Hyatt Abajo!"
Some 200 union members and supporters joined a militant picket in front of the Hyatt Hotel in Santa Clara, Calif., demanding a fair process to choose a union without management interference. During the picket, a civil disobedience action took place in which five members of UNITE HERE Local 19 and five community activists, including retired priest Bill Leininger from the Diocese of San José, blocked the main entrance and were arrested.
Local 2's struggle in San Francisco for decent contracts with global hotel corporations such as Hilton, Starwood, Hyatt and InterContinental has been going on since August 2009. Local 19 recently marked the two-year anniversary of the hotel workers' courageous struggle with the Hyatt in Santa Clara with an outdoor banquet in front of the hotel.
Do you like this post?