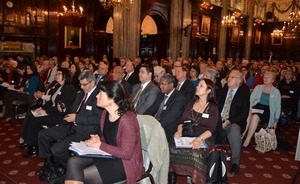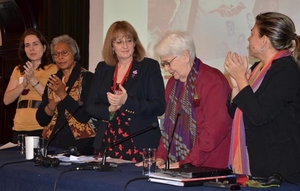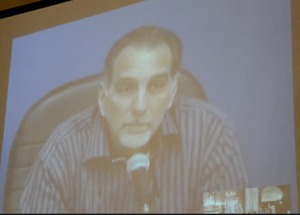 From the website of the National Committee to Free the Cuban Five
On March 7 and 8, expert witnesses, attorneys and family members of the Cuban Five gave powerful testimony before an audience of 250 people at the prestigious Law Society in central London to argue for the immediate freedom of the three Cuban Five members still in U.S. prisons.
René González was scheduled as the key witness but the British government denied him a visa, telling him that serving more than four years in prison, it was sufficient grounds to deny entry into England.
That was precisely the reason he needed to come to London, to explain how each day of his more than 13 years of prison was wrongly imposed! Still, René's truth rang through the hall as the judge-commissioners and audience listened intently to him via Skype.
The Commissioners were: Zakeria Mohammed Yacoob, former Justice of the Constitutional Court of South Africa; Philippe Texier, former Judge, French Court de Cassation; and Yogesh Kumar Sabharwal, former Chief Justice of India. Presiding were Professor Sara Chandler, Chair, Human Rights Committee of the Law Society of England and Wales; and Elizabeth Woodcraft, attorney and author, of Great Britain.
Cuban Five attorneys Phil Horowitz and Martin Garbus gave details of the egregious denial of the Five's rights to a fair trial by the U.S. government's misconduct and poisoned political atmosphere in Miami. Garbus also presented a 558-page document to the Commissioners outlining the U.S. government's illegal and secret payments to prominent Miami reporters who worked to condemn the Five through their highly prejudicial coverage. The document is a product of the National Committee to Free the Cuban Five's research of the last five years, and contains Garbus's important affidavit on behalf of Gerardo. Gerardo Hernández's affidavit of his innocence on the false conviction for murder conspiracy is also included. Attorney Peter Schey spoke of the U.S. government's refusal to produce vital satellite images of the shoot-down of Brothers to the Rescue planes on Feb. 24, 1996. The shoot-down was falsely pinned on Gerardo Hernández and is the reason he is serving a draconian double-life sentence.
A women's panel on the second day of the Commission coincided with International Women's Day and emphasized the hardships that the mothers, wives and children of the Five have endured, and their supreme dedication to their loved ones' freedom. Featured were Irmita González, daughter of René; renowned author Alice Walker; Diana Holland, Assistant Gen'l Secretary of UNITE union; Mirta Rodríguez, mother of Antonio Guerrero; and Kenia Serrano, president of the Cuban Institute of Friendship with the Peoples. Olga Salanueva, wife of René González, Elizabeth Palmeiro, wife of Ramón Labañino, and Adriana Pérez, wife of Gerardo Hernández, gave moving testimony in other sessions.
Among the many others who spoke were family members of victims of anti-Cuba terrorism: Margarita Morales, whose father died in the 1976 bombing of Cubana flight 455 (73 people were murdered by terrorists Luis Posada Carriles and Orlando Bosch); Betina Corcho, whose mother, a Cuban diplomat, was murdered by a terrorist bomb directed against Cuba in Portugal; and Roberto Hernández Caballero, investigator of terrorist crimes committed against Cuba. Former Cuban National Assembly president Ricardo Alarcón, former U.S. Attorney General Ramsey Clark, and vice-president of Europe's Parliament Miguel Angel Martínez headed a panel.
A grand concert Friday night highlighted famed Cuban musicians Eliades Ochoa and Omara Portuondo. Alice Walker and other personalities filled Barbican Hall. A closing dinner on Saturday gave recognition to convenors and organizers Cuba Solidarity Campaign and the Belgian organization Iniciativa Cuba Socialista, and to British unions UNITE and UNISON, among others.
A preliminary conclusion was read at the close of the Commission to resounding applause and standing ovation. The final report will be sent to President Barack Obama. Congratulations to the organizers and everyone involved for this vitally important event!
Do you like this post?