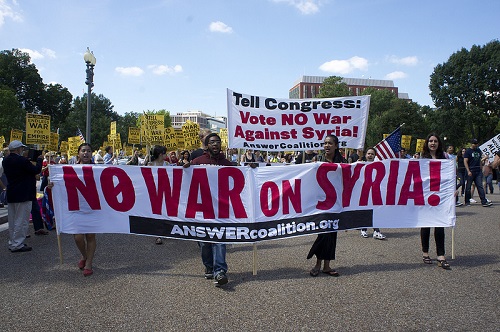 March at the Capitol, September 7
Because of the dedication and tireless work of volunteers, organizers and activists, who were supported by those who made generous donations, the grassroots anti-war opposition scored a major victory when it forced President Obama to go on national TV and announce that he was pulling back from an imminent war with Syria.
Members of Congress reported that they were receiving phone calls, emails and faxes that said Vote NO by a margin of 100 to 1. Wherever they went, the politicians were being confronted by people at town hall meetings and organized demonstrations. Even when they went into stores and public shopping areas, they were directly challenged by people who opposed a new war in the Middle East.
This was and is a historical moment. It is exceptionally rare that the intervention of an anti-war, grassroots opposition forces the war makers to put the brakes on.
This anti-war victory, however, can still be reversed. It is critical that people continue to put pressure on the government. The right-wing militarists in Congress are crafting a new resolution with the White House that would authorize the president to initiate the bombing of Syria if he decides that Syria hasn't fully complied with UN resolutions. That was precisely the kind of language Congress adopted in 2002 that gave George W. Bush a blank check to launch the bombing and invasion of Iraq in 2003.
Send an email right now to Congress and to President Obama telling them that you and the vast majority of the people demand that they listen to the people who oppose a new war against Syria. Tell President Obama that you vote NO to war against Syria, and tell Congress to Vote NO to any resolution that authorizes a new war against Syria.
Please help amplify this message right now with your generous donation to the anti-war movement.



P.S. Also, please make sure to read the analysis by Brian Becker, national coordinator of the ANSWER Coalition, "Understanding the new stage of the Syria Crisis," which was written on Sept. 10 prior to the president's speech.
In case of a U.S./NATO attack on Syria, we will hold an Emergency Response Protest at 5pm at Powell and Market Sts. the day the bombing starts. Call 415-821-6545 for more info.
Do you like this post?