The Jeremy Marks Defense Committee has been hard at work organizing and participating in events to help spread the word about Jeremy's case. Read about past and upcoming events, including Jeremy's first pretrial hearing and upcoming fundraisers below. Let's keep up the pressure!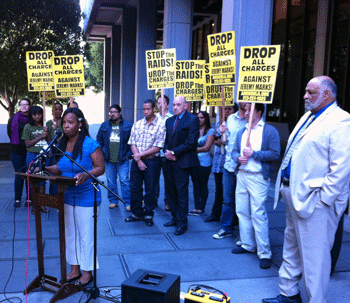 Rochelle Pittan speaking at a press conference. Jeremy stands behind her.
---
Here's what Chelsea Davies, a supporter from Liverpool, England, said about Jeremy's case:
"An 18 year old should not be thrown into prison for catching a police officer abusing their authority. ... It makes me sick. Drop the false 'charges' against Jeremy Marks!"
This is just one example of the hundreds of emails of support we have received.
Upcoming Events
Jeremy's first pretrial hearing, Feb. 24: Pack the courtroom: The first pretrial hearing will be this Thursday February 24, 2011 at 8:00 a.m. (900 3rd St., San Fernando 91340, Dept. C). Activists with the Jeremy Marks Defense Committee will attend in support and will continue to spread word about the case. We encourage everyone to pack the courtroom in support of Jeremy.
Fundraiser in North Hollywood, Feb. 26: There is an upcoming fundraiser for Jeremy in the L.A. area. It will be this Saturday, Feb. 26, at 7:00 p.m. at the NoHo Actors' Studio at 5215 Lankershim Blvd, North Hollywood, CA 91601. It is being organized by the Community Rights Campaign. The event will showcase poetry, dance, and arts of local LAUSD high school organizers. All proceeds will go toward defending Jeremy.
Recent Events & Media Coverage
Rally for justice: On Feb. 12, ANSWER activists gathered hundreds of petition signatures at a Long Beach March to End Police Violence.
Many hundreds of people in Long Beach marched in response to the police killing of an innocent, unarmed man named Doug Zerby. Everyone at the event responded favorably to Jeremy Marks's story.
At the rally, ANSWER organizer Jessica Bardales addressed the crowd: "We are here to demand justice for all victims of police violence and harassment. One of the most important cases to support right now is the case of Jeremy Marks. The police and Los Angeles District Attorney are trying to railroad him into prison for simply recording police misconduct on his cell phone. This is an outrage."
Speaking out at LAUSD: Rochelle Pittman, Jeremy's mother, spoke out at a recent LAUSD School Board meeting about Jeremy's case. The Board sat uncomfortably as Pittman described the facts in detail. She has yet to receive any response from the Board, but she will continue to fight: "I won't stop speaking out until justice is served and no other child is harassed by school police," said Pittman.
In the media: Jeremy's case received further coverage in the LA Weekly. An excellent article by Katharine Russ details the Gestapo-style police raids unleashed on Jeremy and his family just a few weeks ago. Click here to read the article.
How you can get involved in the case
• Forward the petition to drop the charges against Jeremy to everyone you know.
• Invite Rochelle Pittman, Jeremy's mother, to speak at your event/home.
• Volunteer to work with Jeremy's Defense Committee.
We are dedicated to working alongside Jeremy and his family until all of the charges are dropped. With your continued participation and support, true justice will prevail!
The Jeremy Marks Defense Committee is a campaign of the ANSWER Coalition in partnership with other social justice organizations.
Do you like this post?