The Jeremy Marks Defense Committee has been hard at work organizing and participating in events to help spread the word about Jeremy's case. Read about past and upcoming events and media coverage below. Let's keep up the pressure!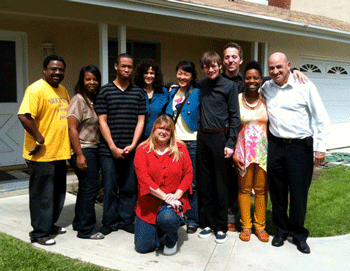 Members of the Jeremy Marks Defense Committee, including Neil Frasier (fourth from right), Rochelle Pittman (second from left) and Jeremy.
---
Here's what Alaa Hattab, a supporter from Beirut, Lebanon, said about Jeremy's case:
"Thank you for standing up brother, for all the oppressed people of the world, through this one single act."
This is just one example of the hundreds of emails of support we have received.
Upcoming Events
In the coming weeks, Rochelle Pittman will be speaking on various campuses and community forums throughout the state. We would like to invite everyone to attend these events and bring friends to promote the justice campaign. The next speaking engagement will be at a community forum in Compton, Calif. to address issues of police abuse in the city. It will be held tonight, April 4, 7:00 p.m. at 600 N. Alameda Street, Compton.
On April 5, the speaking tour will be at Pasadena City College in the WiFi Lounge at 12 Noon to reach out to students and community members in Pasadena. A full list of upcoming events is forthcoming and we hope you will take the time to go to one of them in support of the justice campaign.
The speaking tour is filling up and will include engagements throughout the Los Angeles area as well as San Diego and Northern California. If you would like to set up a meeting at your school, church, neighborhood, home or with your organization please contact us at 213-251-1025.
Recent Events
On Sunday, March 27, Rochelle Pittman hosted a breakfast for Neil Fraser and many members of the the Jeremy Marks Defense Committee (see photo). Neil, a computer engineer with Google, played a critical role in having Jeremy released from jail by donating the necessary bail amount at the end of last year. Members of the Committee shared with Neil all of the work that is happening on the case and continued to strategize for the mounting defense campaign.
On March 30, activists with the Jeremy Marks Defense Committee and Rochelle Pittman traveled to Cerritos City College to speak to students, community members and professors about the case. Donations were gathered and attendees signed the petition to drop all charges against Jeremy Marks. Many students pledged to help spread the word about the case.   
A recent article in Liberation News documented the Los Angeles Police Department's attempts to manipulate the media coverage of Jeremy's case. The article, titled, "Los Angeles police lies cannot stop Justice for Jeremy Marks," is an important piece that shows that we all must continue to struggle for justice in this case. Please click the link to read the article, forward it and click the Facebook and Twitter buttons to share it. One of our most important tasks is keeping Jeremy's case visible.
Donate today: We need your support
All of this activity in support of Jeremy is necessary. We want to do even more, but we cannot do it without your support.
We are asking once again that make a financial contribution to the Jeremy Marks Defense Committee. Click here to make a donation to support Jeremy.
Your support is greatly appreciated and will have a direct impact on keeping Jeremy out of prison. We are currently developing a speaking tour with Rochelle Pittman, Jeremy's mother, to raise awareness about the case and gain broad-based support.
Every dollar you donate will go directly to Jeremy's legal defense fund and to help the grassroots justice campaign. Click here to make a much needed donation.
(All donations will be directed through the ANSWER Coalition's fiscal sponsor, Progress Unity. Any donation of $50 or more is tax deductible. You can also donate by check: mail to PUF/Jeremy Marks at 137 N. Virgil Ave., #201, Los Angeles, CA 90004, or phone: call 213-251-1025.)
How you can get involved in the case
• Forward the petition to drop the charges against Jeremy to everyone you know.
• Invite Rochelle Pittman, Jeremy's mother, to speak at your event/home.
• Volunteer to work with Jeremy's Defense Committee.
• Donate generously to Jeremy's Defense Fund.
We are dedicated to working alongside Jeremy and his family until all of the charges are dropped. With your continued participation and support, true justice will prevail!
The Jeremy Marks Defense Committee is a campaign of the ANSWER Coalition in partnership with other social justice organizations.
Do you like this post?