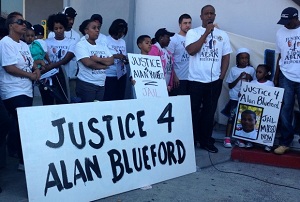 Date: March 5, 2013
Time: 3:00pm
Location: Alameda Co. DA's Office, 12th and Oak St.
Oakland, California
Contact: Justice 4 Alan Blueford Coalition at [email protected] or 415-821-6545
Website: http://www.justice4alanblueford.org
The Justice 4 Alan Blueford Coalition and many in the Oakland community call upon Calif. Attorney General Kamala Harris and the DA's office to:

1. Press charges against OPD Officer Miguel Masso for the murder of Alan Blueford due to the flawed and biased investigation carried out by Alameda County District Attorney Nancy O'Mailey which intentionally ignored clear evidence of a homicide and cover-up by the Oakland Police Department.

2. Reopen all cases of officer-involved killings from the Riders case in 2003 to the present, due to the pattern of flawed and biased investigations which has shown an unprincipled relationship, lacking objectivity, between the D.A.'s office and Oakland Police Department, which continues to lead to Oakland Police Officers being unjustly cleared and immune from criminal charges for brutality and murder.

3. Create a strategy and policy to end the criminalization of the Black and Brown communities, stop the militarized Oakland Police Department from terrorizing Black and Brown communities, and allow the Black and Brown communities of Oakland to exercise the right to political, social and economic self-determination.
We demand answers!
We demand the truth!
We demand Justice for Alan Blueford!
NO JUSTICE, NO PEACE!
The ANSWER Coalition is a member of the Justice 4 Alan Blueford Coalition.
Do you like this post?