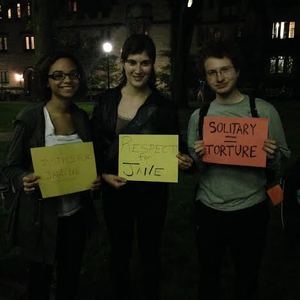 On October 16, Connecticut DCF Commissioner Joette Katz did not get the welcome she was expecting when she finished speaking in front of a class at Yale University. Katz is responsible for the cruel decisions to place 16-year-old transgender girl Jane Doe first into a women's prison without charges and then into a facility for delinquent boys. She continues to defend her decisions through rabid, sophomoric attacks on the youth's character.

The commissioner was met outside the classroom door by a crowd of about 35 students and community members, holding signs reading "Justice for Jane Doe", "End DCF Abuse" and "Being Young and Trans is Not A Crime." Katz jumped when confronted with Jane's face on placards, attempted to walk out of the building, but was followed out by the group. When outside, the crowd
erupted with chants: "Katz! You lied to me! Prison isn't therapy!" and "Katz is a liar – shut it down! Jane's in prison – shut it down!"

Students and community members, including members of the PSL, the LGBTQ office at Yale and the Yale Undergraduate Prison Project, spoke out with an update on Jane's case and actions to come. The teen is currently in solitary confinement at the Connecticut Juvenile Training School, a boys' facility, where now two staff members have been reported to have sexually assaulted her.

IV Sta, a Justice for Jane organizer, said of recent events: "It is clear that Governor Malloy won't pretend to care about Jane or youth like her – he wouldn't speak to us. It is clear that Joette Katz won't
pretend to care about Jane – she's walking away from us. But what got Jane out of prison? It was people like us in the streets, people like us on the phones, people like us standing up and fighting for Jane and saying we won't take it anymore. So that's what we have to do."

Katz has refused to comment on Jane's conditions in a long time, but every time she has spoken to students, her words were full of hate and disgust towards both Jane and her supporters among the student body. Despite this, Thursday evening Yale students and Justice For Jane organizers stood together to tell DCF that their transphobic, abusive representatives are not welcome on campus, and that students and communities refuse to stop standing up and fighting for Jane and youth like her.
Do you like this post?