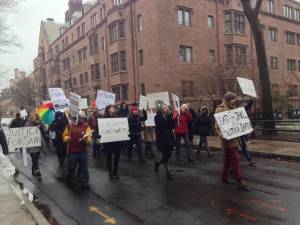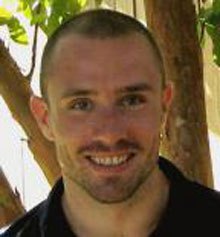 Dec. 10, New Haven, Conn.
Photo: Chris Garaffa
 Samuel See
On the evening of Nov. 23, 34-year-old Yale professor Samuel See was arrested at his home following a supposed domestic dispute with his ex-husband, 32-year-old Sunder Gangliner. Reports of what occurred after See's arrest are being kept a secret. According to the New Haven Police Department, See "fell down" while being arrested, sustained a head injury, and was subsequently briefly transported to a hospital before staying overnight at an NHPD holding cell. The next morning, at 6:00 a.m., See was reported dead without explanation, leaving an entire community shocked and outraged at the NHPD's lack of transparency, as well as at the probable police brutality that led to his death.
In response to the NHPD's reluctance to investigate See's death, local organizers, co-workers, friends, family and community members held a speak-out and march demanding truth and transparency from the NHPD, hospital and judicial marshals that oversaw the lockup in which See was held. On Dec. 10, a crowd gathered on behalf of See and marched from downtown New Haven to the NHPD in a gesture of militancy and solidarity.
Hannah Zeavin, one of the demonstration's primary organizers and a former student of See, spoke eloquently about her teacher's character. She described him as a thoughtful, caring and deeply political individual who did not hesitate to make meaningful connections with his students. "I'm so unspeakably grateful he's the person I got to work with," Zeavin told the crowd, "because he changed my life."
Nathan Brown, a close friend and former colleague of See, who flew out from California to help lead the demonstration alongside Zeavin, shed light on the reality of police brutality and its epidemic rates among people of color, women and LGBTQ people. "The police in the United States are brutal," he said. "The police are violent, they don't keep people safe, they hurt people and they especially hurt them when they are minorities, when they are gay and it's a huge social problem people need to recognize." He added: "I want to stress I'm not saying I know whether we know how Sam died in jail, but I think it's reasonable to assume the manner in which he was arrested and his incarceration contributed to whatever circumstances led to his death."
The demonstration for Samuel See called for an immediate investigation as to the nature and circumstances of See's death, as well as an end to police brutality in general. Chanting "Justice for Sam See! Police accountability!," demonstrators marched from New Haven's downtown Amistad Memorial at City Hall to High Street on Yale's campus, where Samuel See's office had been located. After pausing briefly to reflect on See's life, the crowd continued marching through downtown New Haven before stopping at the NHPD.
Outside the NHPD headquarters where See died, a growing crowd gathered to listen to additional speeches from See's friends and family. Led by Brown, Zeavin and New Haven organizers from WORD (Women Organized to Resist and Defend) and ANSWER (Act Now to Stop War and End Racism), and flanked closely by police vehicles, demonstrators continued to chant: "Racist, sexist, anti-gay - NHPD go away!" "What do we want? Justice! When do we want it? Now!" LGBTQ rights activists and fighters against police brutality attested to the devastating effects of police violence on local communities and discussed additional New Haven citizens—such as Monique Hayes and Oscar Santiago Rivera—who had died similarly at the hands of police or in custody, the records of their deaths withheld and falsified.
See's sister reflected emotionally: "I was the one who called the police. I asked them to help my brother. And now he's dead."
Nathan Brown closed out the demonstration with final words on behalf of See, emphasizing that See's intelligence, caring nature and concern for others would be remembered and deeply missed. "We also need to remember the rage Sam felt when he was led out in handcuffs," Brown said. "We need to remember that rage as we continue to demand justice."
Looking back at the facade of the police department building, Brown urged New Haven to continue fighting police brutality in memory of See. He reflected again on See's caring, compassionate nature. "The police," he said, "are the opposite of Sam."
Do you like this post?