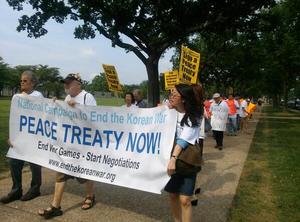 July 27 marked the 60th anniversary of the date on which the United States signed an Armistice Agreement to temporarily halt its war of aggression on the people of Korea. But to this day, the U.S. government refuses to sign a peace treaty formally ending the Korean War. Thus, the two sides are technically still at war, and the war continues in a very real way on a daily basis.
The United States still has tens of thousands of troops occupying the peninsula and militarizing the false border between North and South Korea. Sanctions and an economic blockade are maintained against North Korea, and are combined with threats of military aggression in addition to war games that simulate invasion and bombing, all while North Korea is depicted as the aggressor.
For the past 60 years, Korean American and U.S. anti-war organizations have joined the demands of the people in North and South Korea for peace and reunification.
To mark this important anniversary, the National Campaign to End the Korean War called for a "Korea Peace Weekend" on July 26-27 in Washington, D.C., which included a rally and march, film showing, strategy meeting and Congressional visits.
People calling for an end to the Korean War traveled from across the country – from California and Oregon to New York and New Jersey to the Washington/Maryland/Virginia area – to converge in Washington, D.C. The gathering came at the same time as an official ceremony held by the U.S. Department of Defense at which President Obama spoke and declared the Korean War to be a victory for the U.S. government.
The morning of the official ceremony, July 27, activists stood on the corner of Constitution Avenue and 17th Street, holding signs and banners, and loudly chanting as President Obama's motorcade drove by. Chanting "Peace Treaty Now – End the Korean War," they then marched to the White House, where they held a rally followed by a picket on the White House sidewalk.
That evening, they held the D.C. premier of the new film "Memory of Forgotten War" from award-winning filmmaker Deann Borshay Liem and Ramsay Liem, professor emeritus at Boston College. This powerful new documentary follows the stories of four Korean Americans who witnessed firsthand the war's devastation and its aftermath.
The film was followed by a Q&A with co-director Ramsay Liem and a panel featuring Stephen McNeil from the American Friends Service Committee, Sarah Sloan from the ANSWER Coalition and Hyuk-Kyo Suh from the National Association of Korean Americans.
All of the organizations involved in the activities vowed to continue their struggle until the U.S. government signs a peace treaty and ends all aspects of its war on the Korean peninsula.
Do you like this post?