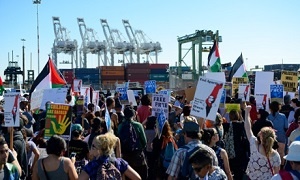 For four days straight, the San Francisco Bay Area community blocked the Israeli ZIM ship from unloading at the SSA.  And today, we salute the rank and file workers of ILWU, Local 10 for standing with us against Israeli Apartheid by honoring our pickets and letting the ship go from the SSA terminal yesterday afternoon!

Saturday, we mobilized thousands of our community to show the world that Oakland does not welcome racism, apartheid or Zionism, from Ferguson to Palestine.  We flooded the streets and marched towards the Port only to discover that the ZIM ship decided to stay at sea rather than dock and be confronted by the power of our numbers.  The ship attempted to dock and unload on Sunday, but within a half hour hundreds of us organized community pickets requesting that workers to stand with us on the side of justice and not unload the Apartheid ship. And as ILWU rank and file always have, and as they did during South African Apartheid, they demonstrated their solidarity with the global fight against oppression and honored our picket. The following Monday and Tuesday saw both an organized call to action as well as autonomous protests determined to keep the ship from being unloaded.  These efforts coupled with worker solidarity continued the success of the weekend's total blockade of the ZIM ship.

Tuesday we declared a historic victory for Palestine as Oakland held down the longest blockade of an Israeli ship.  Not only did we block the boat, but we also showed the world that racist exclusionary state of Apartheid Israel has no place on our port, and will soon find that it has no place on any port on the West Coast. After being blocked from unloading at the SSA Terminal, the ZIM ship was forced to leave and unload at another Terminal where it was met with protests by autonomous activists. This even further delayed the unloading of the ship.

From the use of tear gas to the training of police by Israeli military, Oakland feels firsthand the brutality of Israeli war-making.  And Palestine knows too well the role the U.S. plays in facilitating the ongoing ethnic cleansing of the indigenous Palestinian people.

From the policing and militarization of our local communities perfected with Israeli tactics of repression to the billions that the U.S. provides Apartheid Israel, the connections are clear and are made for us.  And over the last four days we showed the world that we stand shoulder to shoulder from Palestine to Oakland to Ferguson as we struggle to bring down every wall, every Apartheid system and every racist state. 

Palestine will be free!

Block the Boat was organized by a coalition of autonomous activists and the following organizations:

AF3IRM
Al-Awda New York
All African People's Revolutionary Party (AAPRP)
American Friends Service Committee
American Muslims for Palestine
ANSWER Coalition
APEN: Asian Pacific Environmental Network
Arab Youth Organizing (AYO)
AROC: Arab Resource & Organizing Center
ASATA: Alliance of South Asians Taking Action
Bay Area Women in Black
BAYAN-USA
Bay Area CodePink
Bay Area Latin America Solidarity Coalition
Berkeley Fellowship of Unitarian Universalists Social Justice Committee
Black Organizing Project (BOP)
Black Organizing Leadership and Dignity (BOLD)
Black Workers For Justice
Catalyst Project
CodePink Washington
Committee for Open Discussion of Zionism (CODZ)
Communist Party of San Francisco
Critical Resistance - LA
Critical Resistance - Oakland
Critical Resistance - Portland
Descoloniza a Oakland/Decolonize Oakland
Free Palestine Movement
Freedom Archives
Friends of Deir Ibzi'a
Fuerza Mundial/Pueblos en Movimiento
General Union of Palestine Students – SFSU
Global Women's Strike
Gray Panthers of San Francisco
Green Party of Alameda County
Haiti Action Committee
International Action Center
International Jewish Anti-Zionist Network
International Solidarity Movement - West Bank/Gaza
International Socialist Organization
International Tribunal of Conscience for Camilo
ISM-Nor Cal
IWW Bay Area Branch
Jewish Against Genocide
Jews for Palestinian Right of Return
Justice for Palestinians
La Voz de l@s trabajadores/Worker's Voice
Labor for Palestine
Lake Merritt Neighbors Organized for Peace
Malcolm X Grassroots Movement
Marcha Patriotica (Colombia) - California chapter
Middle East Children's Alliance (MECA)
Movement Generation
National Lawyers Guild SFBA Chapter
Noam Chomsky
NorCal Friends of Sabeel
Occupy SF Action Council
ONYX Organizing Committee
The Palestine-Israel Action Committee
Palestine General Federation of Trade Unions
Palestinian Youth Movement
Party for Socialism and Liberation
Queers Undermining Israeli Terror
Samidoun Palestinian Prisoner Solidarity Network
San Francisco Green Party
School of the Americas Watch East Bay
Socialist Alternative - Bay Area Branch
Socialist Organizer
SOUL: School of Unity and Liberation
Southern Anti-Racism Network
Stanford Students for Justice
Stop the War Machine
Students for Justice in Palestine – Cal
Totally Radical Muslims
UAW Local 2865 (Academic Student Workers at the University of California)
US Campaign to End the Israeli Occupation
US Campaign for the Academic and Cultural Boycott
US Palestinian Community Network
Veterans For Peace Chapter 69
World Can't Wait Bay Area
Workers World Party
Xicana Moratorium
Do you like this post?