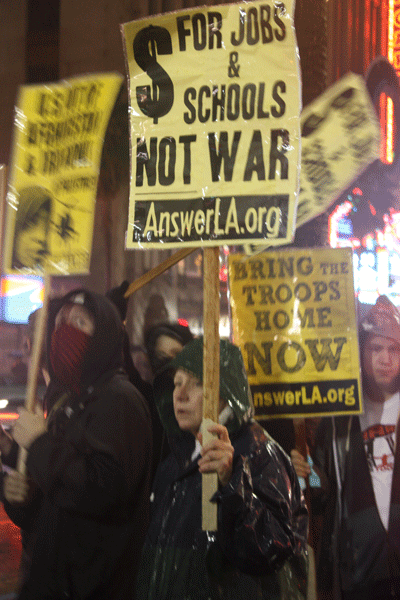 Despite heavy rain, over 100 people gathered in Los Angeles on the corner of Hollywood and Highland to demand an end to the U.S. wars on Afghanistan and Iraq. People came from as far as Riverside to protest, braving what Southern California media outlets have dubbed the "storm of the decade."
The demonstration, initiated and led by the ANSWER Coalition, broke the routine of holiday shopping and garnered support from activists and even passers by, who joined in chanting "Money for jobs and education—not for war and occupation!" and "Occupation is a crime—Iraq, Afghanistan, Palestine!" Protesters held banners reading, "U.S./NATO Out of Afghanistan!" and "Yes to jobs, housing and education—no to war, racism and occupation!"
Speakers at the demonstration included representatives of Korean Americans for Peace, ANSWER Coalition, KmB Pro-People Youth, Veterans for Peace, Party for Socialism and Liberation and National Lawyers Guild.
Jollene Levid of anti-imperialist women's organization AF3IRM said, "More than half the victims of these imperialist occupations are women who are raped, beaten, and killed with impunity. End the wars now!"
The energy of the demonstration reflected a re-emerging anti-war movement spearheaded by students and young workers. Tamara Khoury, a Palestinian American student and Youth and Student ANSWER leader at California State University, Fullerton, said, "Billions of dollars are spent every year on bombing and oppressing innocent people that look just like me in lands thousands of miles away, while we have our education stolen from us with budget cuts and tuition hikes—we've got to keep fighting to end these attacks abroad and at home."
The Los Angeles action took place on the heels of a major civil resistance action in Washington, D.C. led by veterans and anti-war organizers, where more than 130 people were arrested.
The next major anti-war event announced by ANSWER Coalition and allies is a mass march, rally and civil resistance on March 19, 2011, which will gather at 12 noon at the corner of Hollywood and Vine in Los Angeles.
Do you like this post?