Scores of organizations coming together for worldwide protests

Message from Iraq War Veteran and March Forward! co-founder, Mike Prysner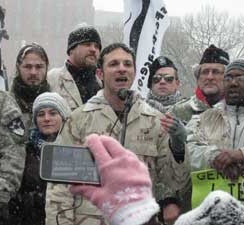 "A week ago I was arrested along with 130 others taking a stand against these criminal wars at the White House gates. As veterans we have learned first hand the vicious truths of the U.S. war drive and have pledged to resist. We stand with our Muslim and Arab sisters and brothers who are under attack. Will you stand with us on March 19 when we take the next steps?"
Yes! I support the March 19 Day of Action to Resist the War Machine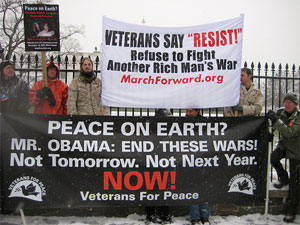 Veterans and other anti-war activists line
the fence in front of the White House on
Dec. 16 prior to being arrested.

March 19 is the 8th anniversary of the invasion and occupation of Iraq. Iraq today remains occupied by 50,000 U.S. soldiers and tens of thousands of foreign mercenaries.
The war in Afghanistan is raging. The U.S. is invading and bombing Pakistan. The U.S. is financing endless atrocities against the people of Palestine, relentlessly threatening Iran and bringing Korea to the brink of a new war.
While the United States will spend $1 trillion for war, occupation and weapons in 2011, 30 million people in the United States remain unemployed or severely underemployed, and cuts in education, housing and healthcare are imposing a huge toll on the people.
Actions of civil resistance are spreading.
On Dec. 16, 2010, a veterans-led civil resistance at the White House played an important role in bringing the anti-war movement from protest to resistance. Enduring hours of heavy snow, 131 veterans and other anti-war activists lined the White House fence and were arrested. Some of those arrested will be going to trial, which will be scheduled soon in Washington, D.C.
Saturday, March 19, 2011, the anniversary of the invasion of Iraq, will be an international day of action against the war machine.
Protest and resistance actions will take place in cities and towns across the United States. Scores of organizations are coming together. Demonstrations are scheduled for San Francisco, Los Angeles, Chicago, Washington, D.C., and more.
Click this link to endorse the March 19, 2011, Call to Action.

---
In San Francisco, the theme of the March 19 march and rally will be "No to War & Colonial Occupation – Fund Jobs, Healthcare & Education – Solidarity with SF Hotel Workers!" 12,000 SF hotel workers, members of UNITE-HERE Local 2, have been fighting for a new contract that protects their healthcare, wages and working conditions. The SF action will include a march to boycotted hotels in solidarity with the Lo. 2 workers. The first organizing meeting for the SF March 19 march and rally will be on Sunday, Jan. 16 at 2pm at the Local 2 union hall, 209 Golden Gate Ave.
In Los Angeles, the March 19 rally and march will gather at 12 noon at Hollywood and Vine.
Let us know if you are going to be protesting locally. Events taking place around the country will be listed at www.AnswerCoalition.org.
Cities around the country will be printing flyers, posters and stickers to spread the word about March 19 events. Funds are urgently needed to help in this effort. Please make a generous financial contribution today. Click this link to donate online with a credit or debit card, and to find out how to contribute by check.

Do you like this post?