Saturday, March 19 at 12 Noon
From Boston to Baghdad: End the Occupation!
Fight for Jobs & Education! Say 'No' to Racism!
Rally and March
Southwest Corridor Park at Ruggles Station
MBTA: Orange Line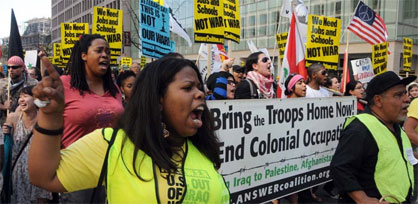 TAKE ACTION NOW!
SPREAD THE WORD about this action:
A renewed wave of struggle is gaining momentum abroad and at home. From Tunisia and Egypt to Wisconsin and Ohio, people are coming together and courageously fighting against oppression. These inspiring examples prove that real change is not only possible but inevitable when injustice is confronted with a militant mass movement.
It's time to step up our struggle. On Saturday, March 19, we will take to the streets as part of an international day of action against war and occupation.
Today, Iraq remains occupied by tens of thousands of U.S. soldiers and foreign mercenaries. While the war in Afghanistan rages on, the U.S. is bombing Pakistan, financing atrocities against the people of Palestine, relentlessly threatening Iran and stepping up hostility against progressive movements in Latin America and Africa.
The wars abroad are directly connected to the war on poor and working people at home. Politicians and corporate media pundits tell us there is no money for jobs, education, housing or health care yet the United States will spend $1 trillion for war, occupation and weapons in 2011 alone.
Thirty million people in the U.S. remain unemployed or severely underemployed, with disproportionately higher rates in communities of color, amongst youth and military veterans.
Just as the U.S. military and foreign forces occupy Iraq and Afghanistan, our communities too are occupied – by big business interests, criminal banks and racist police.
In Boston and elsewhere, health care and retirement benefits are under attack while billions in tax breaks are handed over to multi-million-dollar corporations and private elite universities.
Mayor Menino's hand-picked School Committee has moved to close seventeen schools throughout the city and proposed additional cutbacks for this year's budget. Yet over $30 million has been been spent building a new state-of-the-art police station in Roxbury. While racial profiling and police violence continue to plague the city's Black and Latino neighborhoods, 7 out of the 10 highest paid city employees are Boston police officers.
Gov. Patrick is trying to bring the anti-immigrant law enforcement program "Secure Communities" program to Massachusetts and gentrification continues to push working families out of communities like Jamaica Plain.
It doesn't have to be this way! Now more than ever it is clear that our movement must stay in the streets. Join us on March 19th for a rally and march to say "From Boston to Baghdad: End the Occupation! Fight for Jobs and Education! Say 'No' to Racism!"
Help us cover the costs of building the March 19 demonstration by making an urgently needed donation.

Initiated by ANSWER Boston. Initiated by ANSWER Boston.
Endorsed by: Boston May Day Committee, El Movimiento, Veterans for Peace - Smedley Butler Brigade, United National Antiwar Committee, Chelsea Uniting Against the War / Chelsea Uniendose en Contra de la Guerra, Greater Boston Stop the Wars Coalition, Party for Socialism and Liberation.
To endorse the March 19th demonstration, click here.
For more information and to get involved, contact ANSWER Boston:
BostonAnswer.org - [email protected] - (857) 334-5084

Do you like this post?