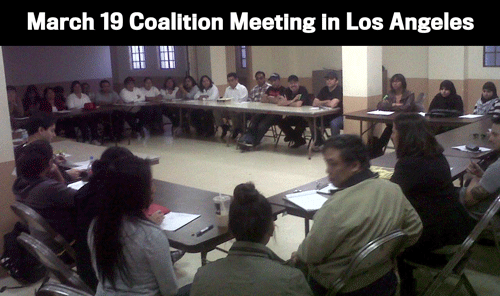 Last Saturday, Feb. 5, a meeting of the March 19 Coalition was held at Immanuel Presbyterian Church.
Some of the groups present were the ANSWER Coalition, the National Lawyer's Guild, United Teachers Los Angeles, Korean Americans for Peace, AF3IRM, March Forward!, KmB Pro-People Youth, Alliance for Just and Lasting Peace in the Philippines, Palestinian American Women's Association, Students for Justice in Palestine, Free Palestine Alliance, Vamos Unidos USA, Union of Guatemalan Immigrants, Military Families Speak Out, Gold Star Families for Peace, Vietnam Veterans Against the War, Veterans for Peace, Full Rights for Immigrants Coalition, Students Fight Back, LA Palestine Labor Solidarity Committee, Codepink, Israel Divestment Campaign, Peace with Justice of Pomona Valley, Coffee Party, Party for Socialism and Liberation, Youth and Student ANSWER, MLK Coalition for Jobs Justice and Peace, Cafe Intifada and others.
Student organizers from various campuses also attended, representing UC Irvine, UCLA, Cerritos College, Cal State Long Beach, USC, Cal State Fullerton, Cal State Los Angeles, Pasadena City College, Los Angeles City College, East Los Angeles City College and others.
In addition to those in attendance at the Feb. 5 planning meeting, hundreds of organizations and individuals have endorsed the March 19 National Anti-War Marches. Click here to add your/your organization's name to the growing list of endorsers.
The March 19 protest in Los Angeles will coincide with mass protests in San Francisco, Chicago, Seattle and Washington, D.C.
March 19 is the eighth anniversary of the criminal war of aggression launched against Iraq. The demonstration will demand the immediate and unconditional withdrawal of all U.S. and NATO forces from Afghanistan and Iraq. Instead of war, we will demand funds so that every person can have a job, free and universal health care, decent schools, and affordable housing. We'll also demand freedom for Palestine and an end to U.S.-backed dictatorships in Egypt, Yemen, Jordan and elsewhere.
The March 19 Coalition discussed a scenario for the March 19 action in Los Angeles. People will gather at Hollywood and Vine, 12 noon, and march down Hollywood Blvd. for a rally in front of the Kodak Theatre with speakers, music, performers and a dramatic civil resistance action, led by veterans and military families, to illustrate the effects of war on occupied peoples.
Dozens of volunteers are already working diligently to build this important action. Tens of thousands of flyers, stickers, and posters are making their way around Southern California. Volunteers are meeting every Saturday at 12 noon at the ANSWER office to discuss current political developments and go out on outreach teams, in addition organizing taking place everyday in communities, campuses and workplaces. Find out how to get involved today!
Build the anti-war struggle! Click on the buttons below and get involved. Join us at this week's ANSWER Volunteer Meeting this Saturday, 12 noon at 137 N. Virgil Ave., #201, Los Angeles 90004.
Do you like this post?