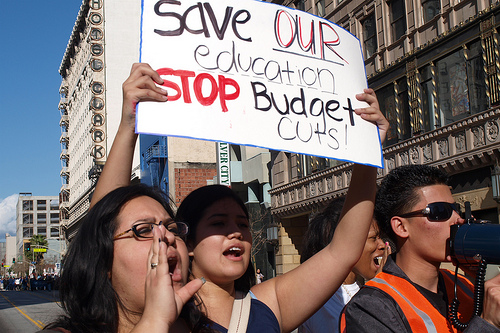 This Wednesday, March 2, students throughout California and across the country will take action to stop cuts to education and fee hikes. Join ANSWER Coalition, Students Fight Back and other campus and progressive organizations at these actions to push forward the student struggle and to spread the word about the upcoming March 19 mass March and Rally in Los Angeles to stop U.S. wars.
Each day the U.S. government spends $700 million to occupy Afghanistan and Iraq. This is more than the entire budget shortfall for the University of California and California State University systems. Stand with the students and make your voice heard. Click here to endorse March 2 and March 19.
Stop cuts, stop hikes! Tax the rich!
Stop racism and imperialist wars! 
Education is a right! It should be free and accessible for all!
Military recruiters out of our schools!
March 2 Actions in Southern California
CSU Northridge: 10:00 am, Oviatt Library lawn, 18111 Nordhoff St., Northridge
CSU Los Angeles: 11:00 am, Rally by Student Union building
CSU Fullerton: 12 noon, Humanities Plaza
Los Angeles City College: 12 noon, Free Speech Area
UCLA: 12 noon, Rally at Bruin Plaza
Long Beach City College: 12 noon, on Carson Street
Pasadena City College: 12 noon, Student Union building; 7 pm, Board of Trustees building
Cerritos College: 2-4 pm, in the Quad for outreach and tabling
UC Riverside: 11 am, Bell Tower
Riverside Community College: 12:30 pm, MLK Building
San Bernadino Valley College: 12 noon, Free Speech Area
Student March in Riverside: 3pm, Convene downtown with students from CSUSB, RCC, Cal Poly Pomona, Mt. Sac., College of the Desert and San Bernardino Valley College
San Diego City College: 4:30pm, 1313 Park Blvd.
Be in the streets on March 19:
The people have the power to stop the wars!
On Saturday, March 19, there will be a mass protest in Los Angeles to stop the wars and fund people's needs. It will gather at 12 noon at the corner of Hollywood and Vine. Students are mobilizing to make it happen.
The struggle against budget cuts and tuition hikes is a key part of the overall struggle to stop the wars and win justice for people at home. From Egypt to Wisconsin to Los Angeles: we are seeing everywhere—the people have the power. Students are at the forefront of all of these struggles. Let's keep the movement going strong. Everyone who believes in justice should help build for March 19, the 8th anniversary of the war on Iraq.
For more info on any of these actions, call 213-251-1025 or email [email protected].
Do you like this post?