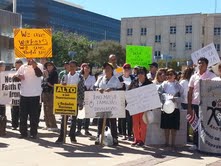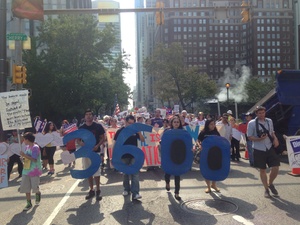 Watch a 60-photo slideshow from the Oct. 8 rally and march in D.C.
On the heels of protests in over 160 cities across the country, thousands of immigrants took to the streets again on Oct. 8 in Washington, D.C. The rally converged on the National Mall, with live music culminating in a public concert by Los Tigres del Norte, six-time Grammy award winning Mexican-American band. The band sang many popular songs about the struggle of immigrant workers in the United States.
Unions, including large contingents from LiUNA, SEIU and UNITE HERE, and families from all over the country attended. Many carried signs that demanded an end to deportations and demanding "Justice and Dignity for All Immigrants."
The rally, featuring many pro-reform politicians, religious leaders and community activists, was unified in the demand for immigration reform. The rally demanded reform that stops the wave of deportations and grants legalization, immigration protection and ultimately access to citizenship for millions.
Protesters also demanded the immediate release of the DREAM 30, a group of undocumented youth who returned to the United States in an attempt to reunite with their families and communities in late September. Of the 30, only five have been released; 25 remain in immigration detention.
The rally organizers had feared that, with the shutdown of the national parks, the protest might be threatened, but the National Park Service was forced by public scrutiny to grant a last-minute permit for the action.
At the close of the rally, march leaders took to the streets chanting, "Si se puede!" and other pro-reform slogans.
The march ended at the Capitol, where over 200 people were arrested. The arrestees included undocumented youth and families from around the country, activists and union members, as well as eight Democratic Party members of Congress.
Jose La Luz, a protestor from Orlando, explained: "America should not have a permanent under- class. That's why we're here."
Boston
Thousands from across Massachusetts marched from Boston's Copley Square for a rally in the Boston Commons on Oct. 5. The March for Immigrant Respect and Immigration Reform was organized by the New England Coalition for Keeping Families Together, which is comprised of dozens of immigrant rights organizations, labor unions, religious groups, students and community organizations. Transportation centers brought hundreds into Boston from across the state, including Brockton, Fitchburg, New Bedford, Lynn, Springfield, Williamstown and Worcester.
After gathering at the Boston Public Library, the demonstration marched down Boylston St. and stopped along the route at two Bank of America branches, delivering letters demanding public statements against anti-immigrant policies and in support of immigration reform. As the march approached the Boston Commons, the thousands who took over the street could be heard from blocks away, chanting "Si, se puede" and "What do we want? Justice!"
Speakers at the rally included immigrant families directly impacted by family separations caused by detentions and deportations. Others spoke of the difficulty of living day-to-day lives as undocumented immigrants and the constant fear of getting pulled over because of racial profiling. Josue Martinez of Fitchburg explained how he was pulled over by the police, was placed in ICE detention and has been living ever since with the threat of deportation. Released on bond, he was joined on stage with his son and showed the crowd the GPS ankle monitor he is forced to wear.
Thousands of immigrants remain locked behind bars in jails throughout the state and the across the country. In Boston, hundreds are held in ICE detention at the Suffolk County House of Corrections, known as Southbay. In recent weeks, the prisoners have been organizing against the conditions faced inside the jail.
At Saturday's demonstration, ANSWER Boston organizers and activists with the Resist the Raids network handed out hundreds of leaflets with information on recent hunger strikes organized by ICE detainees at Southbay. The prisoners are organizing against unsanitary food conditions that have caused infections and stomach ulcers, greater access to programs and services inside the jail, and improvements to visitation rights with family members and loved ones. Jail officials have placed two of the organizers in solitary confinement since Sept. 29. Several solidarity actions have been held outside of the jail and additional actions are being organized for the coming days and weeks.
Albuquerque
As part of nationally coordinated demonstrations demanding comprehensive immigration reform, over 1,000 people gathered at Civic Plaza in downtown Albuquerque on Oct. 5 to demand immediate action on immigration reform. The rally included messages from families who have been torn apart by the racist policies of the U.S. government. Giant photos lined the stage of loved ones who have been deported from the United States after being brutally detained.
After a moving and militant rally, the people poured into the streets and marched through downtown, chanting and waving signs and banners.
Joel Gallegos, ANSWER New Mexico organizer, called on the Obama administration to fulfill its promises to the immigrant community: "An injury to one is an injury to all. We demand immediate action against these racist immigration policies, with full rights for all people."
Philadelphia              
Hundreds gathered in Philadelphia's famous LOVE Park to demand dignity and respect for immigrants, and an end to deportations. People in the crowd held signs reading "Mantengan las familias unidas" (keep families together) and "Undocumented and Unafraid," as speakers from a wide array of faith-based, labor and civic organizations demanded a clearer path to citizenship and full rights for immigrants.
"We want equality," said one man in the crowd. "We work hard. We pay taxes. We want to do it legally and live a normal life."
A young woman described her own family's experience with the terror that surrounds undocumented immigrants' daily lives. "My father has a court case," she said, "and he is undocumented. We are afraid he will be deported. We are afraid we will be separated."
Her family has lived and worked in the United States for 12 years, and despite having just graduated high school, she is uncertain about her future. "Without a social security number I can't apply for scholarships. I can't go to college."
Organizers directed the crowd into the streets where they marched, chanting "Up! Up! Up with Education! Down! Down! Down with Deportation!" and "Sin papeles, sin miedo!"  (without papers without fear).  They gathered in front of the Philadelphia U.S. Citizenship and Immigration Office for speeches given in front of a sign reading 3,600 – the number of in-process deportation cases in Pennsylvania alone this year. In the crowd, people held up the names of deported family members written on paper hearts.
"La lucha sigue!" cried the final speaker. "The struggle continues!"
Do you like this post?