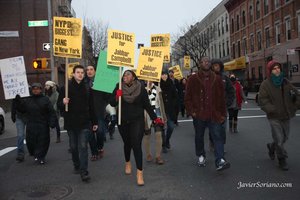 Dr. Martin Luther King Jr. frequently spoke and protested against the "unspeakable horrors" of racist police brutality, and 45 years after his death, on the day meant to commemorate his legacy, a crowd in Brooklyn gathered to do the same.

One week after he was attacked by a group of bigoted cops, Jabbar Campbell, joined by supporters from the ANSWER Coalition (Act Now to Stop War and End Racism) and other organizations, marched from his house to the New York Police Department's 77th Precinct in Crown Heights, Brooklyn. Despite the frigid weather and short notice, over 50 people arrived to show their solidarity. Some held signs that read "NYPD: Biggest Gang in New York" and "Jail Bigot Cops for Assault, Hate Crimes," while others proudly waved rainbow flags.
People of all backgrounds marched side by side, and individuals came from all parts of the city to join with Crown Heights residents and condemn this latest example of the nationwide epidemic of police brutality.

After kindly inviting protesters into his home to warm up, the rally began when Jabbar Campbell addressed the group from his front stoop, describing the cops' vicious attack against him the previous weekend. In the early hours of Jan. 13, a group of anti-gay NYPD officers—allegedly responding to a noise complaint—burst into his home, after tampering with the building's surveillance cameras, and gruesomely attacked him. Campbell was hosting a Pride party that evening, and the officers yelled anti-gay slurs while beating him so badly that they left his mouth bloodied, eye swollen and lip split open.

Campbell expressed deep gratitude for those who had rallied to his support. He explained that he never thought he would be in this position, but that it was important that people fight back and not tolerate the injustices the community suffers at the hands of the cops. The rally poured onto the street on Utica Ave., causing cars and buses to slow, many of which honked to show their support. Chants included "Racist, Sexist, Anti-gay; NYPD: Go Away!" as well as "We Want Justice for Jabbar, Cops Behind Bars!"

After arriving at the 77th precinct, different organizations expressed their support for Campbell and shared their perspective on how to build the movement. Members of LGBT and anti-police brutality groups spoke out. In addition to the ANSWER Coalition, groups such as Harlem Pride, Audre Lorde Project, Make the Road, New York City Anti-Violence Project, Stop Stop and Frisk, Malcolm X Grassroots Movement, Women Organized to Resist and Defend (WORD), the Party for Socialism and Liberation, and Brooklyn Community Pride Center spoke, using the bullhorn so that nearby pedestrians and the cops standing across the street could hear their message.

Chelsea Johnson-Long from the Audre Lorde Project expressed her frustration at having to repeatedly return to this same police station to protest cases of abuse. Djibril Toure of the Malcolm X Grassroots Movement explained his organization's plans to expand Cop Watch patrols in Crown Heights. Karina Garcia of WORD called for greater levels of organization to challenge police brutality, explaining that "There are more of us than there are of them; the difference is that right now they are more organized."

After the rally, the crowd marched with Campbell back to his house, as an act of solidarity and to keep him safe from the cops who targeted him.

In his closing comments, Campbell reiterated the need to keep this movement growing. In that spirit, a group of organizations has called for a "Stop the Cops" Unity March from 138th Street Bridge in the Bronx to the State Building in Harlem at 125th Street and Adam Clayton Powell, which will take place on February 23. More information can be found here. Organizers have announced daily outreach teams, and are calling for donations to help print more materials as well as volunteers to help build the march.
Do you like this post?