Assemble at 1pm at 125th St. and Adam Clayton Powell
for the 1:30pm Ramarley Graham feeder march
Stop and Frisk mass march steps off at 3pm from 110th St and Fifth Ave
A Week of Action:
'Justice for Ramarley' Vigil
Thursday, June 14, 7pm at 749 E. 229th St
Harlem Street Meeting and Outreach
Saturday, June 16, 1-3pm, 125th St. and Lenox Ave
Ramarley Graham feeder march to the Stop and Frisk mass march
Sunday, June 17, assemble at 1pm, march at 1:30pm
from 125th St. and Adam Clayton Powell
The largest demonstration yet against the NYPD's racist Stop and Frisk policy will take place this Sunday, June 17 in Harlem. Tens of thousands of people are expected to take to the streets for a Silent March initiated by 1199SEIU and the National Action Network.
In 2011, New Yorkers were stopped by the police 685,724 times. Of those stopped, 53 percent were Black and 34 percent were Latino; 51 percent were between the ages of 14 and 24. Stop and Frisk is a racist policy targeting and criminalizing Black and Latino people, especially young people.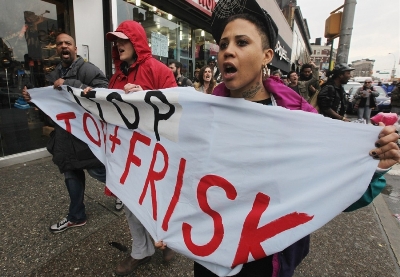 March against Stop and Frisk, January 2012

There is a growing movement to put an end to Stop and Frisk. The ANSWER Coalition encourages its members and supporters to join this important movement and to participate in the mass march this Sunday, June 17.
The Stop and Frisk Mass March steps off at 3pm from 110th St. and Fifth Ave. The assembly area is on 110th St. between 5th and 8th Aves. Enter from the west or the north, not the east.
The ANSWER Coalition is building for a feeder march alongside the friends and family of Ramarley Graham, an 18-year-old killed by the NYPD in the Bronx apartment where he lived last February, as well as other organizations that have been protesting weekly to demand justice. We will be gathering at the State Office Building at 125th St and Adam Clayton Powell at 1pm, for a 1:30pm march to the main event.
There was a breakthrough in the Ramarley Graham case this week, as Officer Richard Haste was charged with manslaughter for the fatal shooting. That criminal charges were brought against Haste at all reflects the consistent outrage, action and pressure from Ramarley's family and community. But a manslaughter charge is a far cry from justice. Ramarley was murdered. That is the charge his killers should be facing.
The ANSWER Coalition is determined to help Ramarley's family win justice, and to put an end to the NYPD's racist Stop and Frisk policy.
In addition to the mass march on Sunday, there will be the weekly vigil for Ramarley in the Bronx this Thursday, June 14 at 749 East 229th St (near White Plains Rd.), On Saturday, June 16, we will be holding another street meeting in Harlem at 125th St. and Lenox Ave. to let the community know about Ramarley's case and the mass march against Stop and Frisk the following day.
In other words, there's a whole week of activity for you to support the growing movement against racist police brutality and profiling, culminating in the Sunday mass march. Join us and get involved! Contact the ANSWER Coalition at 212-694-8720 or [email protected] to volunteer.
---
Please support the ongoing work of the ANSWER Coalition
by making an urgently needed donation.

Do you like this post?