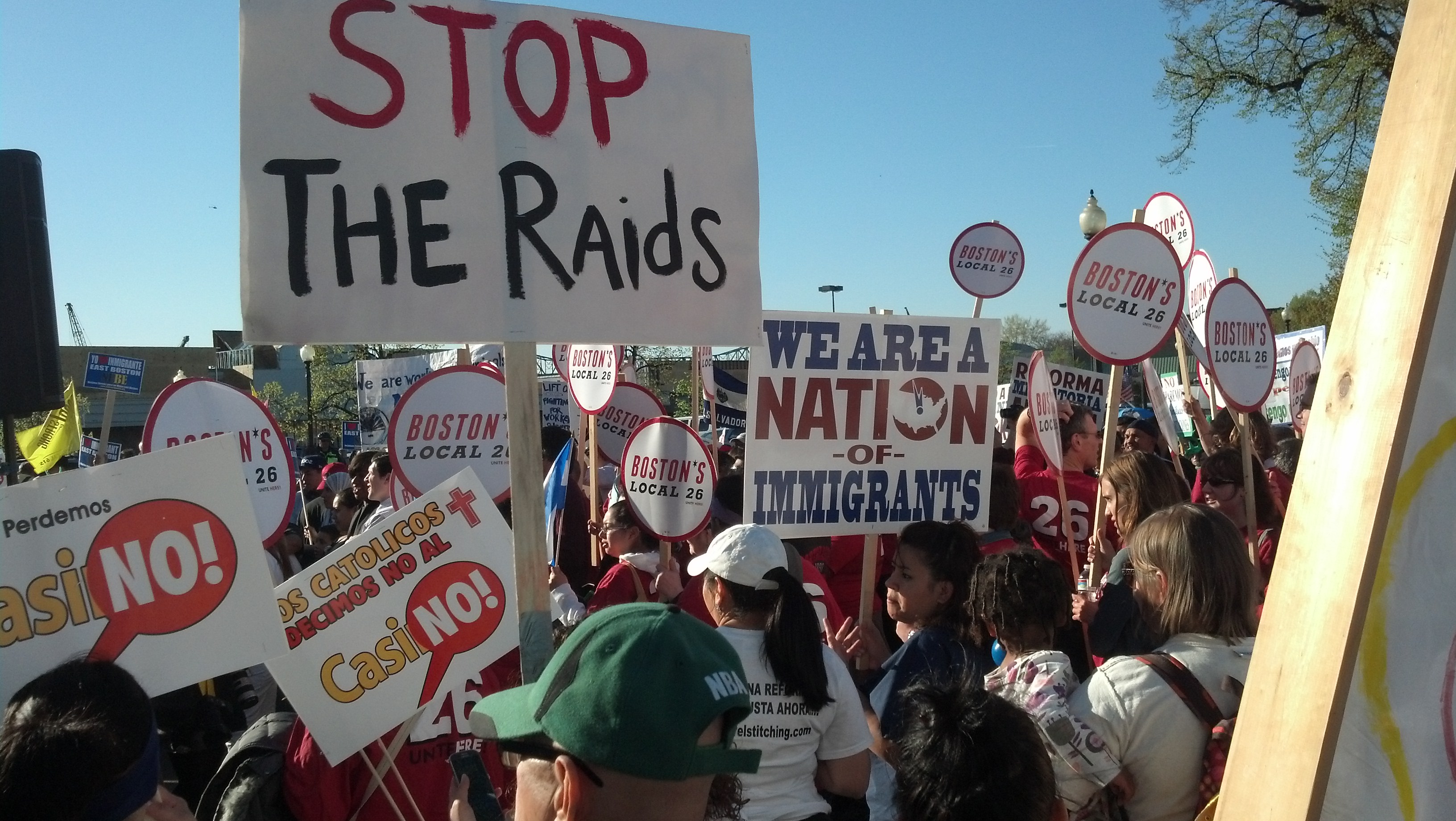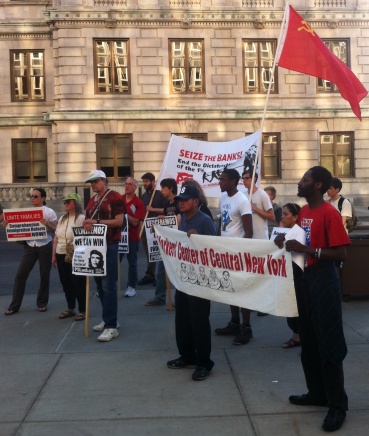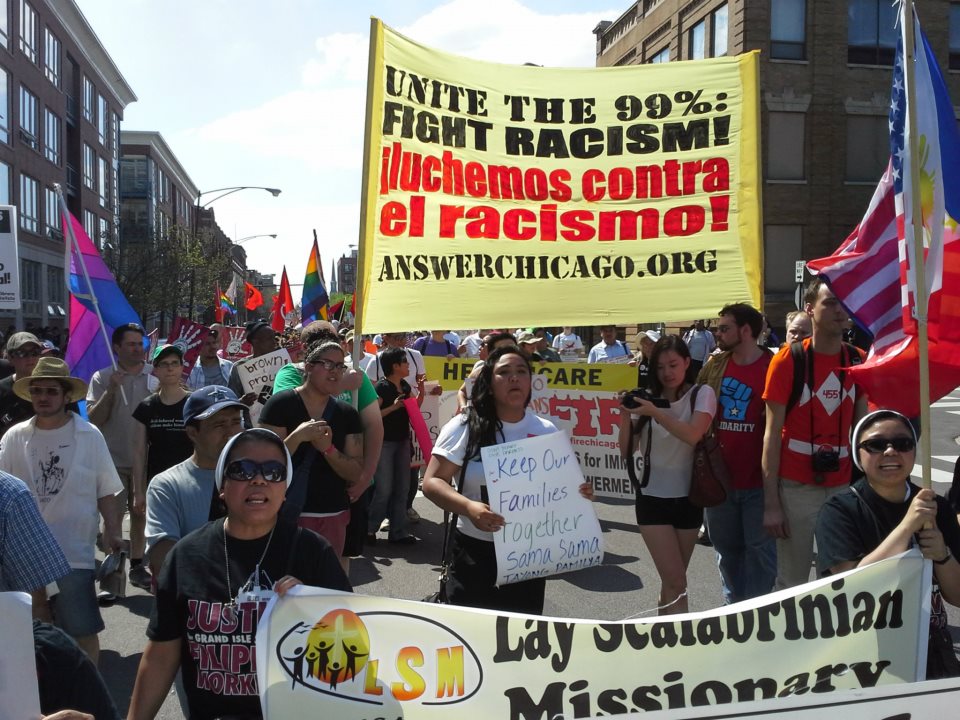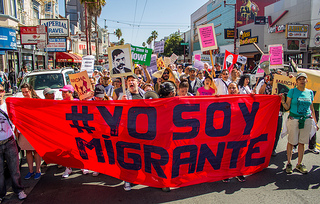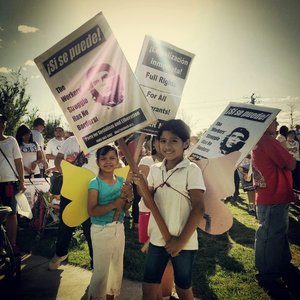 May 1st is celebrated around the world as International Workers Day and is marked by militant struggle demanding rights for poor and working people. Although it is ironically not an official holiday in the United States, the origins of May Day go back to the 1886 general strike held by U.S. workers demanding the 8-hour day.
May Day was revived as a day for mass action in the United States by the courageous struggle of immigrant workers in 2006, who carried out the largest political general strike in U.S. history. Ever since, it has emphasized the fight for full rights for all immigrants and working class unity in the face of racist attacks.

This year, tens of thousands of people in countless cities and towns held events to commemorate May Day in struggle. The ANSWER Coalition mobilized its supporters across the country to participate in these mass demonstrations. Below are reports from many of these actions.
New York
On International Workers Day the ANSWER Coalition joined tens of thousands in downtown Union Square Park for a May Day march and rally. Since 2006 the May Day rallies in NYC have been driven primarily by the immigrant rights movement and this year was no different with many organizations and individuals sharing signs and banners urging for a just immigration reform and an end to the two-tier labor system in the United States.
At the demo ANSWER Coalition members joined their sisters and brothers in the Party for Socialism and Liberation and marched together with members of Immigrant Communities in Action (ICA), an umbrella group made up of a number of grassroots immigrant organizations who support just reform including amnesty for ALL undocumented workers. Our contingent stretched from curb to curb as we made our way down Broadway and chant leaders from Damayan, ANSWER, PSL, FIERCE and more kept the crowd live and militant. At the end, Linda Oalican from Damayan spoke to the crowd from a megaphone reminding us that we cannot expect a just immigration bill to come from out of "the backrooms of congress" and that history has shown it is the people in the streets who have been able to win justice for our communities.
Los Angeles
 Photo: Peta Lindsay
Around 50,000 workers, students and families—many undocumented—marched through the heart of Los Angeles on May Day. A beautiful sea of people gathered at Olympic Boulevard and Broadway and ended at Placita Olvera, one of the few remaining historic and cultural sites of Latino heritage in Los Angeles that has not been destroyed by gentrification.

People of all ages were chanting along with the march "Legalización! No depertacion!", "Mujeres! Unidas! Hamas serán vencidas!", "¡El pueblo unido, jamás será vencido!", "What do we want? Legalization! When do we want it? NOW!".

The mass march was organized over many months by the LA May Day Coalition—of which the ANSWER Coalition is a member group, along with unions and immigrant rights organizations. Central organizers along with ANSWER included SEIU-ULTCW, SEIU-USWW, LA County Federation of Labor, Clean Carwash Campaign, Koreatown Immigrant Workers Alliance (KIWA), Full Rights for Immigrants Coalition, Vamos Unidos USA, CHIRLA, and more.

Marchers expressed a variety of personal motivations for participating in the demonstration. Eminia, who attended the march with her 5 and 8 year old children, said she wanted to "show how a city comes together to fight for immigrant rights and how families get affected… because my older brother was an undocumented worker that got arrested while looking for a job". Theresa Sanchez Tan, a Cal Poly Pomona student, said "I'm here because my family roots are based on immigrants, I'll never forget that…. I've been told once, 'Go back to where you came from' I said, 'China or Mexico?'. My family and roots are here to stay". A significant Queer contingent highlighted the struggle for LGBT equality as part of the struggle for immigrants' rights.

ANSWER organizer Peta Lindsay led chants from the lead sound truck for the march. ANSWER organizer and March Forward! co-founder Mike Prysner delivered a message of solidarity from the ANSWER Coalition at the opening of the main rally.

The huge demonstration showed the power of mobilization and the broad unity that can be built to assert immigrants' rights.
Washington, D.C.
Photo: Sarah Sloan
In Washington, D.C., a wide range of individuals and organizations came together for a May Day march that stressed themes centered on working-class unity. Brought together primarily by Occupy DC's May Day Committee, the day's events began with a rally at Malcolm X Park. The rally was addressed by a wide variety of speakers, including activist group CODEPINK and musical performances by the D.C. Labor Chorus.
May Day celebrations continued with a march that snaked through large parts of downtown D.C., traveling several main thoroughfares. Chants such as "When the working class is under attack, what do we do? Stand up! Fight back!" reverberated off buildings and drew the attention of onlookers, a number of whom expressed solidarity with the May Day march.
The march included a stop at Gap, where activists staged a protest action in solidarity with Bangladeshi workers. The march ended at the White House where it encountered a small group of fascists carrying the flag of Apartheid South Africa, the English Defense League, and the Confederate flag. Undaunted, protestors militantly confronted the gathering of fascists, refusing to allow them to spread their message to the tourists and onlookers gathered at the White House.
Boston
Thousands of people across the greater Boston area gathered for several rallies and marches throughout the day. First, activists with the Boston May Day Committee hosted a rally at Boston City Hall.  The rally was co-chaired by Committee member Dorotea Manuela and Robert Funke with Veterans for Peace.  City Councillor Charles Yancey, representing Dorchester and Mattapan, addressed the crowd and read a city council resolution he sponsored commemorating International Workers Day. The program included music from Chilean activist Sergio Reyes and speakers such as Leidy Quiceno of the No Eastie Casino/Levantate East Boston coalition, Jennifer Zaldana with the ANSWER Coalition, Kendra Moyer of the IWW, Geoff Carens of the Harvard Union of Clerical and Technical Workers and Bryan Koulouris with Socialist Alternative.
Following the Boston rally, demonstrators joined the May 1/Mayo Primero coalition for a mass rally in East Boston's Liberty Plaza, where three feeder marches converged from nearby cities Revere, Everett and Chelsea. Immigrant rights organizations and community groups like Centro Presente, the Chelsea Collaborative and the MIRA Coalition mobilized immigrant families and undocumented workers.  Hundreds of rank and file union members filled the crowd, representing several unions such as SEIU Locals 615 and 888, UNITE HERE Local 26 and others.
Homemade signs included slogans like "Stop the Raids!" and "Immigrant rights are workers rights".  Popular chants included "El pueblo unido hamas sera vencido!", "Si se puede!" and "They say cut back, we say fight back!".
San Francisco
At 3:00 pm more than 2500 workers, families and community members came together at 24thand Mission in San Francisco to celebrate May Day, Primero de Mayo, International Workers Day and Immigrant Rights Day.  Unions and community groups heavily mobilized to celebrate and broadcast the message: workers' rights are immigrant rights!  The Aztecan dancers opened the rally, drawing many from the community. 
Some of the unions present were Unite Here Local 2, SEIU Local 87, Laborer's Local 261, AFT 2121, UESF, United Food & Commercial Workers Local 5 and Sign Display Union Local 510.  Community groups such as Yo Soy 132, Just Cause/Causo Justa, PODER, Women Organized to Resist & Defend, Out for Immigrants, International Women's Alliance-Grabriela USA, Women's Day Laborer Group, Party for Socialism & Liberation, Progressive Workers Alliance, ANSWER Coalition, Chinese Progressive Association, Save CCSF Coalition and many more led lively contingents throughout the day.
The slogans of the march called for an end to deportations, real immigration reform, dignity and unity among our class, such as "Reunion de las Familias, YA, No a la Separacion de Familias," "Not 1 More," "We Stand for Workers Rights Everywhere," "Somos Legales, NO Criminales," "Don't Blame Immigrants, Blame Free Trade," "Reforma Migratoria, Familias Unidas," "Muslims for Immigrants Rights," "Immigrants Rights are Queer Rights," "Workers' Rights are Women's Rights," "No One is Illegal," "Sin Papeles, Sin Temor; We Ride with Dignity," "Education, Not Deportations," and others.
At just past 3:30 the crowd swelled and the people took over the street and began marching down Mission to the Civic Center for a longer rally at 5 pm.  Alfonzo from Unite Here Local 2 led the chants from the sound truck and the Brass Libration Orchestra set the pace of the march with their music. 
Many people joined the vibrant march while contingents of families, students and workers passed them and chanted "Obama eschucha, estamos en La Lucha," "Educacion si, deportaciones no," "El que no brinca es migra," "We want money for jobs & education, not war & deportations," and "The people united will never be defeated."  The march culminated at the Civic Center where workers from diverse nationalities spoke about the need to fight against the bosses to defend their jobs and benefits. Each speaker pointed out that whether we are documented or undocumented a unified and multinational fight is the only fight that will win both workers rights and amnesty for all.
Click here to see more pictures from the San Francisco demonstration
Syracuse
Dozens of immigrants, workers and students turned out for the second annual May Day demonstration in downtown Syracuse, NY to demand rights for workers and legalization for immigrant workers. The marchers gathered at Billings Park for a rally, emceed by Madeline Horrel, an organizer with Women Organized to Resist and Defend (WORD). ANSWER organizer Garrett Boak spoke about the history of May Day and Carolina Kim, with the Workers' Center of CNY, talked about the present struggle for immigrant rights.
During the march Jose Perez, an immigration attorney, spoke out against local police collaboration with ICE. At the local ICE office, an immigrant resident of Syracuse spoke about her precarious status with immigration officials and her desire to stay in the country where she has been raising her family and is an active member of the community.
Militant chants defending workers' and immigrant's rights included "Wall Street? Tear it down! The border wall? Tear it down!" and "Money for jobs and education, not for racist deportations!" The event was organized by the May Day Planning Committee, which was recently formed by the Workers Center of CNY, ANSWER Coalition, Party for Socialism and Liberation, WORD, the Syracuse Peace Council and the CNY Coalition for Comprehensive Immigration Reform.
Chicago
Over 2,000 people marched on May Day in Chicago. The protest was organized by immigrant rights groups and allies who are demanding legalization for all and an end to deportations.
Chicago labor sponsored a feeder march to support the immigrant rights movement with dozens of unions participating. The Workers Organizing Committee of Chicago, a new union representing low wage workers in downtown Chicago, fresh off their widely publicized one day strike, also joined the march. The WOCC is fighting for a $15 minimum wage.
One of the most popular chants was "Obama, Escucha. Estamos en la Lucha." The impressive turnout in the middle of the afternoon on a work day is reflective of the fighting determination of immigrants and their allies to win full equality.
Albuquerque
Immigrant rights groups and community organizations including the ANSWER coalition organized and  joined together for a successful May Day march in Albuquerque.
Immigrant families and youth activists led the chanting with "Obama escucha estamos en la lucha," (Obama, listen, we are in the struggle) as many showed disenchantment towards the Obama administration's record, which last year surpassed 1 million deportations.
The demonstration numbered well over 1,000 marchers and supporters, who chanted slogans such as "No somos uno, no somos cien, somos millones cuentanos bien," (We are not one, we are not a hundred, we are millions, count us correctly)
Party for Socialism and Liberation members distributed many May Day editions of Liberation newspaper and spoke to workers about Socialism, as being the only true alternative to Capitalism.
Gabriel Hernandez, a immigrant activist and organizer, spoke about the need for all workers in the U.S. to realize that International workers day was started by radical leftist workers here in the U.S. fighting for their rights.
San Jose
 Photo: Jon Britton
Thousands of immigrants and their supporters turned out, gathering at Our Lady of Guadalupe Church in the heart of the large Latino community for a spirited rally before marching 2.7 miles to City Hall. Chairing the rally was Cesar Juarez, a young activist and former organizer with UNITE HERE Local 19. As he read the names of the many sponsoring organizations, he asked that the members shout out "justice." It was a long list, with many shouts of "justice."
Juarez also led several chants, including "Stop deportations and unify families" and "Labor rights for all."
Unions with large Latino and immigrant memberships, such as the Laborers' Union Local 270, Service Employees International Union West and United Food and Commercial Workers, had clearly mobilized for the event, and their large contingents stood out with their union T-shirts, placards and banners. Members of Bayan and the Filipino Association of Workers and Immigrants formed another large contingent. Students from San José City College and San Jose State University also rallied and marched. Many other unions as well as community and faith groups were also present, as well as individual participants from the local community—many carrying hand-lettered/decorated signs.
New Haven
 Photo: Chris Garaffa
May 1, 2013 was marked in New Haven by a demonstration and march in honour of International Workers' Day to demand for immediate change to the U.S. government's racist immigration policies. Organizers and speakers represented a wide swath of the immigrant population and union workers, including the 32BJ, 1199, United Electrical Workers, Unite Here and more.
The action started with a demonstration and speakout, interspersed with traditional music, on the New Haven Green. Hundreds of people came to hear the speakers and participate in the action. Because New Haven has historically been a hub of immigrant rights organizing, people flocked from different parts of the state to participate.
The march that followed took the street and went from the Green down several blocks in downtown New Haven. It ended at City Hall, where several local activists and members of the community spoke out again about the dire need for profound change. One speaker from the immigrant community said: "I currently have a deportation order. Earlier I was in jail for a few months for a crime I did not commit. This is really bad. It's really scary. It's really happening. And I want to thank all of you for coming here and standing up." Reverend Scott Marks, an organizer from the local urban youth group The New Elm City Dream, said "If you are not Native American, you or your family came here. Some came by will. Others came by force. But we are all here now. We are here together. We are one. We need to stand as one." All speeches were given in both English and Spanish.
In an interview with Liberation News, immigrant rights activist Luis Luna spoke about what International Workers' Day, particularly under current political and social conditions, means to him. "May Day has been on my radar for a very long time. I think May Day has been a day for fighting for a very long time. Especially coming from Ecuador. Because it's a holiday there." When asked about what he thought of the proposed immigration reform bill, Luna replied definitively: "I think the bill has been written to satisfy the right, and it's been watered down. It's going to marginalize a lot of people on the local level."
Every May Day has been a crucial opportunity for working people to fight together for the most oppressed of their number. New Haven's action, which brought together hundreds of people across cultural and organizational lines, was another example of that intrinsic solidarity.

Eugene Puryear, Yari Osorio, Sarah Lee Samonte, Chris Gonsalves, Michelle Schudel, Michael Kowalchuck, John Beacham, Joel Gallegos, Jon Britton and IV Sta contributed to this report
Do you like this post?