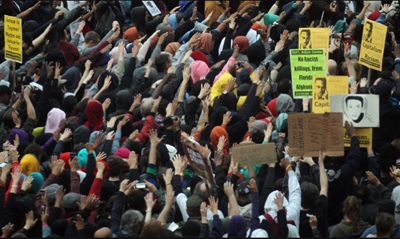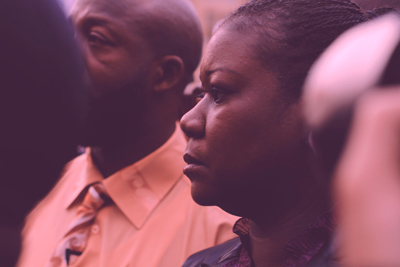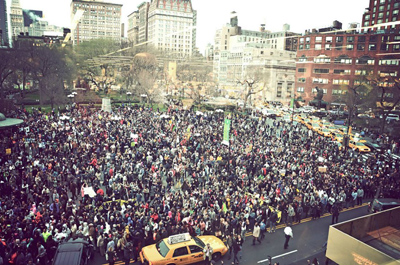 By Ben Becker
The report below was reprinted from LiberationNews.org.
Trayvon Martin's mother, Sybrina Fulton, spoke to the hushed Union Square crowd who had gathered March 21 to demand her son's killer be brought to justice. "Our son is your son," she said. The crowd chanted back, "You are not alone."
In speeches, signs, and interviews, this was the common theme of the night. Trayvon Martin could be any young Black man and he died only because of the color of his skin. Of the thousands of marchers who turned out to demand justice for Trayvon Martin, about two-thirds were African American. As Adam, 43, told Liberation Newspaper, "He went out to get candy and never made it back. That's why you see so many parents out here tonight holding their kids' hands. That could be our son."
Black youth carried homemade signs that read "Don't shoot" along with packs of Skittles and cans of iced teas, the only items Martin had on him when George Zimmerman took his life. Some white marchers carried signs pointing out how they are not subjected to the same police harassment and violence as Black and Latino youth. Everyone wore a hoodie.
Tytiana Myers, 15 of Performing Arts and Technology High School (Thomas Jefferson) in Brooklyn told Liberation Newspaper, "Racism is not over. If he had killed a white boy, that man [George Zimmerman] would be in jail." "He didn't get to live out his life just because he was Black," added her schoolmate, Sabre Oneil, 16.
"This is a modern day Emmett Till," one marcher named Tosin, 25, told Liberation Newspaper.
"This proves there isn't a post-racial society just because there is a Black president," said Sasha Murphy of the Party for Socialism and Liberation. "It shows we need to organize and struggle to bring about fundamental change." The PSL carried signs that read "Justice for Trayvon Martin" and, quoting Malcolm X, "You can't have capitalism without racism."
Yari Osorio, Vice-presidential candidate of the PSL, also participated in the Union Square march and told Liberation Newspaper, "The 1% uses racism to carry out wars on the Middle East, attacks on immigrants, police brutality and the mass incarceration of Black and Latino people." Peta Lindsay, Presidential Candidate of the PSL, joined a similar march in Los Angeles and issued a statement calling for a new movement to combat racist violence.
As Trayvon Martin's mother was escorted through the Union Square crowd, one voice pierced through the rest. "We got your back!" an elderly African American woman yelled after Fulton, repeating that pledge multiple times until she had passed fully out of the park.
Emotional rally leads to spontaneous mass marches
After the initial rally, full of impassioned speeches and chanting, thousands flooded onto 14th Street to begin a march. The police made repeated attempts to force the march back onto the sidewalk, but could not contain the masses of fired up people. The outrage spilled over into powerful chants of "No justice, No peace"—and increasingly "No racist police" as the NYPD attempted to maneuver the crowd.
Many marchers made the clear connection between the "neighborhood watch" of Sanford, Fla. and the Stop-and-Frisk tactics of the NYPD, which resulted in nearly 700,000 stops last year alone. The program is overwhelmingly concentrated in Black and Latino communities, and just last month an unarmed 18-year-old Ramarley Graham was shot to death by officers who barged into his apartment without a warrant.
The march swelled as it passed through lower Manhattan, drawing in onlookers and latecomers. The originally scheduled destination for the march was the United Nations, which that day was recognizing the International Day for the Elimination of Racial Discrimination. The NYPD, which always works to corral, separate and ultimately disperse marches that are not under their strict management, funneled the march back towards Union Square in coordination with several Democratic Party politicians present. The City Councilmembers who had been leading the initial rally, encouraged the crowd to bring the protest to a close.
Seething with anger, and unsatisfied by the short march, activists and others started agitating for the march to continue. Before long, over 1,000 had begun marching downtown, playing a cat-and-mouse game over the next couple hours with NYPD officers who tried to contain them. At one point, marchers overcame the barriers surrounding the Wall Street bull, before finally ending up at the West Side Highway. In the confusion of the night, another march of considerable size took off northward from Union Square, finally arriving at Times Square.
Over the last six months, countless spontaneous marches have taken place in New York City, from the Troy Davis Day of Outrage in September, to the many Occupy Wall Street actions, and the militant South Bronx march against the killing of Ramarley Graham and beating of Jateik Reed in February.
Collectively, these actions have provided a sharp challenge to the NYPD's draconian system of march management in which pre-approved events are surrounded by metal pens and massive shows of force. New York City is undoubtedly the least conducive to free speech activity in the United States. All activists and revolutionaries should welcome the burgeoning militancy of these events, but they have also showed the need for greater logistical preparation, in-the-streets coordination and leadership.
When large numbers of people start to lose their fear—turning the chant of "Whose Streets? Our Streets" into a reality—this can powerfully change the shape and character of demonstrations. In Oakland, the police repression of the defiant Occupy encampment, which included the near fatal shooting of Iraq war veteran Scott Olsen, pushed the movement towards the General Strike that shut down the city's ports, as well as the maturation of street tactics.
Keeping the pressure on
The Trayvon Martin case has touched a raw nerve throughout the country, and in African American communities in particular. Thousands turned out for a rally in Sanford, Fla., where Martin was killed, while hundreds joined rallies in Los Angeles, Chicago, and elsewhere. Most of these events have been organized and popularized on Facebook. Mina Saywhat, 25, explained, "The whole story would have went away if it weren't for the people rallying, tweeting, spreading the message on social media."
The story has absolutely not gone away. Nearly all those interviewed expressed that they will return to rally and march until justice is served.
Content may be reprinted with credit to LiberationNews.org.
Do you like this post?