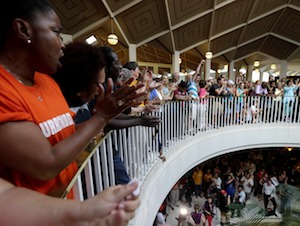 Reprinted from Liberation News
June 22 saw the largest gathering yet in the weekly Moral Monday protests at the North Carolina Statehouse. Up to 5,000 demonstrators gathered to protest, with over 120 being arrested, bringing the total number of arrests to 600 over the two-month period in which demonstrations have been taking place. Organized by the North Carolina NAACP, the protests have taken aim at the wide-ranging right-wing assault unleashed by the state legislature in the Tar Heel state.
Monday's protest focused on the looming evisceration of unemployment benefits, which will end payments for more than 70,000 of the state's unemployed, who still have little-to-no prospect of employment. In other words, tens of thousands are being cast further into poverty and deprivation by the Republican-led state legislature. The law also reduced by one-third the benefits an unemployed worker can receive, and the length of time they can receive them.
Thousands of people have been coming to the statehouse to fight not just this but a whole raft of reactionary laws that the right-wing lawmakers in the state have pushed through. Of particular note, given the Supreme Court's recent overturning of a key provision of the Voting Rights Act, North Carolina lawmakers passed a "Voter ID" law.
Sunday and early voting targeted
In addition to creating more onerous ID requirements to vote, this law reduces the amount of time for early voting, bans early voting on Sundays, and halts same-day voter registration during the early voting period. These measures not only make it harder to vote but are directly aimed at the practices of Black churches and political organizations who often encourage early voting, and frequently use Sundays to mobilize church congregations to go out after services to both register and vote.
North Carolina lawmakers did not stop at starving the unemployed and stopping Blacks from voting. They also rejected any expansion of Medicaid benefits, and are seeking to slash education funding as well as allow oil companies to pollute the state through widespread "fracking."
As terrible as these attacks have been, as this week's protest and as those of the last eight weeks have shown, the people of North Carolina are willing to fight despite baseless and disgusting attempts to smear protesters as "morons" and "out-of-staters." Week after week, the crowds have continued to build, with people from a wide range of backgrounds willing to not only protest but risk their own freedom.
In states like North Carolina, and others across the South and Midwest, similar stories are playing out as far-right legislators seek to enshrine their stone-age policies. However, as the defeat of the odious abortion-limiting bill in Texas shows us, even without seats in the statehouse the forces of the people can fight back and win.
In North Carolina, protests will continue throughout the summer, and people who care about the rights of working and oppressed people should do all they can to support the Moral Monday protesters.
Do you like this post?