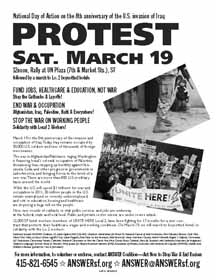 PROTEST-SAT. MARCH 19
12noon, Rally at UN Plaza (7th & Market Sts.)
followed by a march to Lo. 2 boycotted hotels
FUND JOBS, HEALTHCARE & EDUCATION, NOT WAR
Stop the Cutbacks & Layoffs!
END WAR & OCCUPATION
Afghanistan, Iraq, Palestine, Haiti & Everywhere!
STOP THE WAR ON WORKING PEOPLE
Solidarity with Local 2 Workers!
March 19 is the 8th anniversary of the invasion and occupation of Iraq. Today, Iraq remains occupied by 50,000 U.S. soldiers and tens of thousands of foreign mercenaries.
The war in Afghanistan/Pakistan is raging. Washington is financing Israel's colonial occupation of Palestine, threatening Iran, stepping up hostility against Venezuela, Cuba and other progressive governments in Latin America, and bringing Korea to the brink of a new war. There are more than 800 U.S. military bases around the world.
While the U.S. will spend $1 trillion+ for war and occupation in 2011, 30 million people in the U.S. remain unemployed or severely underemployed, and cuts in education, housing and healthcare are imposing a huge toll on the people.
Now, new rounds of cutbacks in vital public services and jobs are underway at the federal, state and local level. Public and private sector unions are under severe attack.
12,000 SF hotel workers, members of UNITE HERE Local 2, have been fighting for 17 months for a new contract that protects their healthcare, wages and working conditions. On March 19, we will march to boycotted hotels in solidarity with the Lo. 2 workers.
Sponsored by the March 19 Coalition. March & Rally endorsers include: ANSWER Coalition, Bay Area Chapter - US Labor Against War (USLAW), UNITE HERE Local 2, San Francisco Labor Council, Alameda Labor Council, South Bay Labor Council, San Mateo Labor Council, Unitarian Universalists for Peace - SF, Al Awda—Palestine Right of Return Coalition, ILWU Lo. 10 Exec. Bd., UFCW Lo. 5, Lo. 510 Sign & Display, Jobs with Justice – SF, Oakland Education Assc. – Peace & Justice Caucus, Teachers for Public Education, OPEIU Lo. 3, SEIU Lo. 1021, Nat'l Council of Arab Americans, Free Palestine Alliance, Code Pink, World Can't Wait, La Raza Centro Legal/SF Day Labor Program, Task Force on the Americas, AFT Lo. 1481 Exec. Bd., AFT Lo. 2121, AFT Local 3267/Jefferson Elementary Federation, United Educators of SF, Arab American Union Members Council, Arab Resource Organizing Center, March Forward!, Veterans for Peace - Chapter 69, Angola 3 Defense Committee, LEF Foundation, Community Futures Collective, National Committee to Free the Cuban Five, West County Toxics Coalition, Party for Socialism and Liberation, Advocates for Indigenous California Language Survival, Int'l Socialist Organization, Human Agenda, United Nat'l Antiwar Ctte (UNAC), Bay Area Women in Black, Freedom Socialist Party, Radical Women, Peace & Freedom Party, Justice for Filipino-American Veterans (JFAV), Association of Widows, Advocates and Relatives for Equality (AWARE), Project Censored and Media Freedom Foundation/Project Censored Executive Committee, Stop AIPAC, Oscar Grant Committee, UU Voices for Health Care, Unitarian Universalist Fellowship of Redwood City, Sacramento Area Peace Action, Peace Action of San Mateo, Teach Peace - Davis, San Jose Peace and Justice Center, South Bay Committee Against Political Repression, Justice for Palestinians – South Bay, Students for a Democratic Society (Napa Valley & Diablo Valley Colleges), Friends of South Asia, Movement for a Democratic Society, Diablo Greens, No. California MEChA, Chinese Progressive Assc., Bay Area Latin America Solidarity Coalition, Haiti Action Committee, San Francisco Bay View National Black Newspaper, Chinese Progressive Assc., American Indian Movement – West, Middle East Children's Alliance (partial list—list in formation)
For more information, to volunteer or endorse, contact ANSWER Coalition—Act Now to Stop War & End Racism: 415-821-6545, [email protected], www.ANSWERsf.org
Do you like this post?