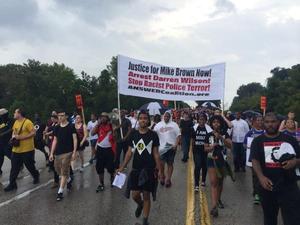 Thousands of protesters gathered from across the country in Ferguson, Mo., Aug. 30 to answer a call for a national march to demand justice for Michael Brown. The community is in a state of rebellion after Michael was gunned down in cold blood by police officer Darren Wilson – one in a long line of racist murders committed by cops against the majority-Black suburb outside of St. Louis.
Called by a coalition of organizations helping to lead the struggle on the ground called the Justice for Michael Brown Leadership Council, the demonstration drew the participation of a wide range of groups, including a sizable contingent from the ANSWER Coalition. Prior to the march, Akbar Muhammad, of the Leadership Council and the Nation of Islam, said, "This will be a national massive march on Ferguson. People of conscience, from all walks of life, and all over the United States, will come together in Ferguson in the largest single mass demonstration to demand justice for Michael Brown."

The family of Michael Brown were also key leaders of the march.

Although earlier demonstrations had been characterized by brutal, unprovoked attacks by heavily armed police against demonstrators, the police took a hands-off approach at this action. It appears that the determination of the community has forced the police to back down and at least momentarily respect their rights.

Protesters first massed on Florissant Ave. and then began marching to "ground zero," the site where Michael was murdered by Officer Wilson. Then, protesters went to a nearby athletic field for a rally.

On the way, heavy rain began falling, but demonstrators were undeterred, chanting, "No justice, no peace!" and "Hey hey, ho ho, these killer cops have got to go!"

The final stop of the national march was the Ferguson Police Headquarters, where speakers agitated against the police and their campaign of racist terror. After three weeks of intense uprising against a notoriously brutal police department, the people of Ferguson showed that they have not gotten tired of fighting back, and that their struggle has inspired all oppressed people.
Do you like this post?