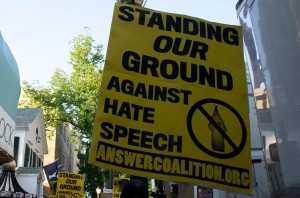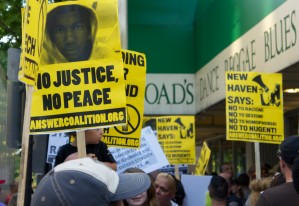 A crowd of anti-racist demonstrators came together Aug. 6 to protest the racist rock musician Ted Nugent during a concert in New Haven, Conn. Chanting "Bigots go home" and "Hey hey, ho ho, let's shut down this racist show," protesters formed a picket line in front of Toad's Place, a historic music venue in downtown New Haven.
The protest was called by members of the New Haven community and was a coalition effort between many organizations, including the ANSWER Coalition, in response to comments Nugent made about Trayvon Martin after George Zimmerman's acquittal. Nugent said "Trayvon had no reason not to attack, because it was the standard thug thing to do," and that Martin was a "seventeen-year-old dope smoking, racist gangsta wannabe." He further went on to say that the Black community has a "mindless tendency to violence" and that Trayvon "got justice," while Zimmerman only got "a sliver of justice." Nugent has a long prior history as a reactionary.
Over 2,700 signatures were collected on a petition calling for the owners of Toad's Place to cancel the show. Toad's management refused to meet with activists. By claiming to be just providing a venue to Nugent, Toad's proved that it is interested only in profit, even if that means allowing extreme racists and reactionaries to spew their hate in the center of a multinational city where there is widespread outrage over the travesty of justice in the Zimmerman verdict.
Despite threats and intimidation by counter-protesters and police alike, the picket line lasted for two hours and continuously grew before turning into a rally, where speakers addressed the need to continue the fight against racism and hate.
"We're not going anywhere. Nowhere. We're not afraid of you or your guns or all the cowardly stuff you had to say right now," said community organizer Barbara Fair.
Shelton Tucker addressed the crowd as police gathered to escort Nugent into the venue: "The police are here as if we are causing trouble. They're ready to arrest us at the drop of a dime, and we're here peacefully. We haven't attacked anyone. We're out here speaking our minds and we're the ones surrounded. We are the ones brutalized, we are the ones that are victimized and we're the ones surrounded."
The message from Tucker and everyone at the protest was clear: Hate, bigotry and racism like Nugent's have no place in New Haven or anywhere, and only a fight-back movement will bring justice.
Do you like this post?